'I'm no Putin fan, but one must accept facts': Veteran journo walks out of Al Jazeera panel (VIDEO)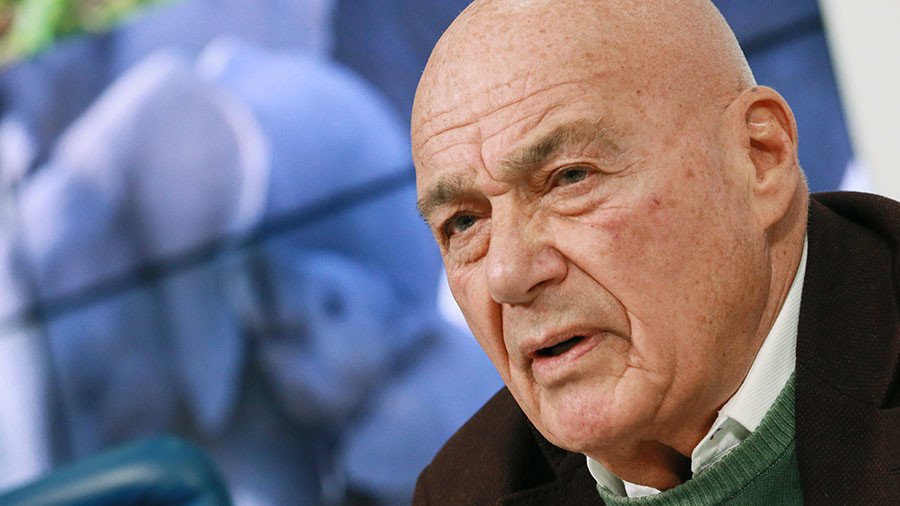 Vladimir Pozner, one of Russia's most-respected journalists, walked out of an Al Jazeera panel on the upcoming Russian election after it became clear that it would only be "an ideological debate" void of real analysis.
The Friday installment of Mehdi Hasan's UpFront program on Al Jazeera English was devoted to Russia's alleged interference in the 2016 US election and the upcoming election in Russia, which incumbent President Vladimir Putin is predicted to win, according to polls.
The second part featured a 15-minute panel of experts, including Pozner, fellow journalist Evgenia Albats, and political activist Vladimir Kara-Murza. Albats and Kara-Murza, both outspoken opposition figures in Russia, took turns dismissing the upcoming vote as "not a real election," after which came Pozner's turn to speak, which he used to graciously bow out.
"When I was asked to participate in this program, I said I was not interested in getting into a debate. I am not a debater, I am a journalist. I am not opposition… I am not a big fan of Putin's, but I like to try to be objective," he said.
"People do go to the poll and they do vote. And for whatever reasons, Putin has a very high percentage of support. And it's not because people are stupid. I say again, I am not a Putin supporter, but either you have to see things the way they are or you describe them the way you want them to be or want people to believe them to be," Pozner said.
"What I am going to do is to let the two people talk and agree with each other on all the negative things they are going to say and I will do some other stuff that is much more interesting for me," he added, explaining that he did not care to participate in "an ideological debate."
As Pozner was leaving, Kara-Murza implied that he was a secret Putin supporter who was running away from honest debate, while Albats remarked that Russia's Channel One, which she called part of a state propaganda machine, has an interview program hosted by Pozner. The discussion then drifted on to the perils of being an opposition figure in Russia and whether or not Putin will step down after his next term ends.
Explaining the move later on his webpage, Pozner said he was misled into thinking the program would be an honest attempt to show foreign viewers the complex situation with elections in Russia. He said the program was initially supposed to give airtime to other experts in addition to Pozner, and that he expressed concerns about the format after learning about the substitutions.
"I stressed that I would not take part in political debates, first, because I do not seek to argue with either Evgenia Albats or Vladimir Kara-Murza, and second, because the [Al Jazeera] audience knows absolutely nothing about Russia and will not understand anything, ultimately deciding that whoever speaks 'smoother' must be right. I was assured there would be no debate," he said.
The Russian presidential election is scheduled for March 18. The term of office is six years and no president can have more than two terms in a row, which means that if Putin wins, he will not be able to seek re-election in 2024.
Think your friends would be interested? Share this story!
You can share this story on social media: