Nikki Haley says Israel won't 'love' peace plan drafted by pro-Israel Trump advisers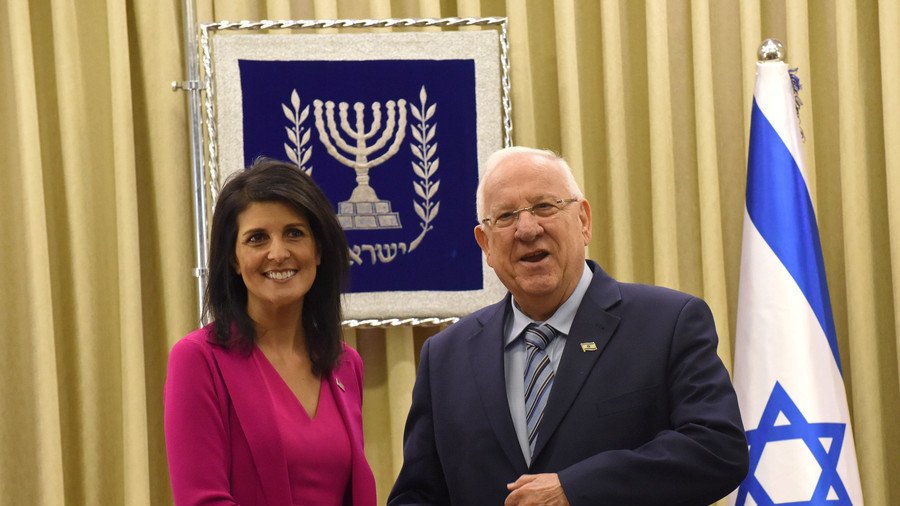 Trump's Middle East peace plan is almost ready but won't be "loved" by either side, Nikki Haley has predicted. However, the Trump administration's staunchly pro-Israel stance seems at odds with the plan's alleged impartiality.
A vision for a peaceful resolution to the Israeli-Palestinian conflict is currently being finished by Jared Kushner, Trump's son-in-law and a vocal supporter of Israel; along with Jason Greenblatt, a senior Trump adviser and, coincidentally, also Israel's ardent advocate. This was revealed by Haley in her address at the University of Chicago's Institute of Politics on Thursday.
Haley reassured her Chicago audience that the peace roadmap "won't be loved and won't be hated" by either Israel or the Palestinians. She added that "it's up for them to decide" how to best solve the conflict, and "if they decide on two states, the United States will support two states. If they decide on certain boundaries, the United States is going to support those boundaries."
"The Palestinians deserve better and the Israelis deserve better. Right now, they're in conflict. It's not a good situation," Haley said. "If the leaders would put aside their pride and their ego, and think about their people, and improving the quality of life for their people, this peace process will do that."
However, Haley apparently put aside her basic arithmetic skills while speaking with the event's moderator, David Axelrod, a former senior adviser to Barack Obama.
Commenting on the UN General Assembly resolution that condemned Washington's recognition of Jerusalem as Israel's capital – which passed 128-9 – Haley said she initially "thought that we were going to have two or three [countries] with us," but was delighted that "68 didn't vote against us" because "they saw that this was America-bashing."
"They saw that this was America bashing" UN Ambassador Nikki Haley remarks on the General Assembly's vote rejecting President Trump's recognition of Jerusalem as Israel's capital. pic.twitter.com/LQNYL5f4D5

— NBC News (@NBCNews) February 23, 2018
Actually, only eight nations (including Israel) joined the US in voting against the resolution, while 35 abstained and 21 failed to vote at all. That makes 64 nations in total, which technically "didn't vote against" the US – four nations shy of Haley's courageous 68 countries that apparently stood up to the UN's "America-bashing."
Even Axelrod was perturbed by Haley's logic, reminding the UN envoy that only "nine voted with you" (actually eight – RT).
Haley's suggestion that the Trump plan won't heavily favor Israel will be difficult for many to believe. She has repeatedly used her seat on the UN Security Council to defend Israel from international "bullies," and Trump's Jerusalem decision marked the first time since the UN-brokered partition of Palestine in 1947 that a president of the US – a member of the Middle East Quartet, which is charged with mediating the peace process between Palestine and Israel – has departed from the established policy that the issue of Jerusalem as Israel's capital should be kept off the table.
Like this story? Share it with a friend!
You can share this story on social media: