Trouble in paradise: Maldives crisis locks China & India in tug-of-war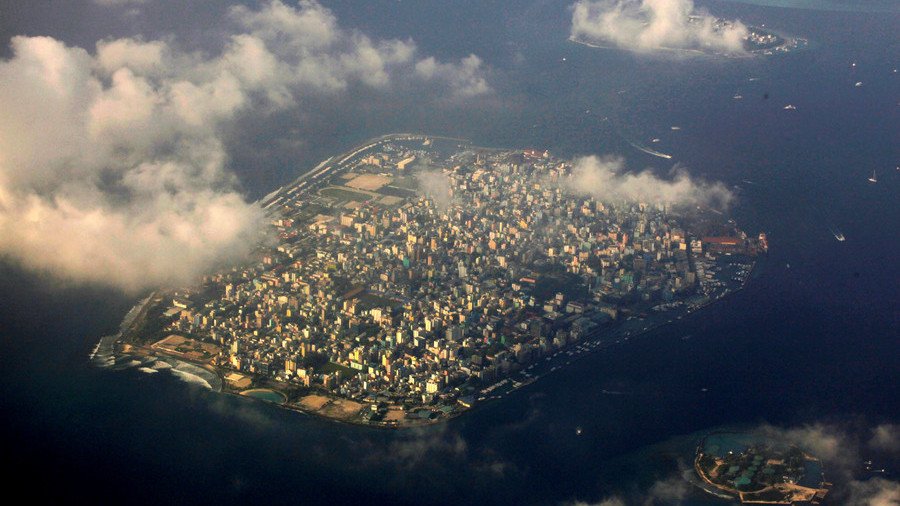 The Maldives is a tiny paradise nation, with a population of 400,000 and 10 times more sea than land. It's also a focus in the rivalry between China and India, whose total populations comprise a third of all people in the world.
The Maldives has been divided by a political crisis, with each of the two sides calling on one of their big neighbors for help. Both India and China have a vested strategic interest in the archipelago.
Early in February, the Maldives Supreme Court dropped charges against opposition leader and pro-Indian former President Mohammed Nasheed, and ordered that 12 opposition parliamentarians who had been stripped of their seats be reinstated. The current president, pro-Chinese Abdulla Yameen, overruled the court's decision and declared a state of emergency. Two Supreme Court judges and another former pro-Indian president, Maumoon Abdul Gayoom, were arrested on charges of attempting to overthrow the government.
In the chaos that ensued, both Yameen and Nasheed appealed to regional powerhouses for their support. Yameen sent envoys to China, Pakistan and Saudi Arabia in a bid to strengthen his position. Nasheed, who is currently outside the Maldives, took to Twitter to request a military-backed envoy from India and financial steps from the US.
On behalf of Maldivian people we humbly request:1. India to send envoy, backed by its military, to release judges & pol. detainees inc. Prez. Gayoom. We request a physical presence. 2. The US to stop all financial transactions of Maldives regime leaders going through US banks.

— Mohamed Nasheed (@MohamedNasheed) 6 февраля 2018 г.
Powers from farther away also took interest in the turmoil. A delegation from the EU was flown to the archipelago and held a meeting with the opposition, but was denied talks with the ruling government, which it accused of cracking down on democracy.
India has so far been reserved in its reactions. Statements from Prime Minister Narendra Modi and other top officials boil down to calls for "respect for democratic institutions" and "playing a constructive role in the Maldives." A number of Indian media outlets, however, ran opinion pieces calling for action against Chinese influence in New Delhi's"backyard".
China appears poised for action, closely monitoring any potential Indian move. An editorial in the state-run Global Times, effectively a mouthpiece for Beijing, warns against any military power play in the archipelago.
"India should exercise restraint," it reads. "China will not interfere in the internal affairs of the Maldives, but that does not mean that Beijing will sit idly by as New Delhi breaks the principle. If India one-sidedly sends troops to the Maldives, China will take action to stop New Delhi."
A report followed, saying China had dispatched a small fleet to the East Indian Ocean this month. It was quickly picked up by several media outlets, and some didn't wait for confirmation before ruling that China was "muscling out" regional competition. There's been no official statement from Beijing, but soon unnamed Indian sources refuted the rumor: apparently, there five ships, not 11 as reported initially, they were on a routine patrol mission and never came close to the Maldives, moving near Indonesia, thousands of miles to the east.
What puts the tiny atoll paradise at the center of a generations-long superpower rivalry, how many more nations will it pull in, and what are the chances it will end in bloodshed?
What has India worried is the rapid advance of Chinese influence in the Maldives in the past decade, says Sreeram Chaulia, professor and dean at the Jindal School of International Affairs of O.P. Jindal Global University. This is evidenced by president Yameen's support of the Belt and Road initiative, a net of Chinese trade routes aiming to span most of the Eurasian continent by both sea and land.
Apart from maritime trade deals, President Yameen has permitted Chinese warships to dock in the Maldives. This does not sit well with India, which has always seen these waters as its own area of influence, professor Chaulia says.
Chinese expansion in terms of economic agreements, for example, the 'One Belt One Road,' in terms of its navy being able to send submarines and battleships all the way across the Indian Ocean and up to the Gulf of Aden. These moves have been perceived as competition with India…

Prof. Sreeram Chaulia, analyst
The situation slipping into actual military action, though, is unlikely "at the current juncture," the professor believes. Things can still escalate if the political crisis deepens.
"If the incumbent president, Abdullah Yameen, tries to rig the elections that are due this year, or delay the elections, which could prolong the crisis, then you can expect a stronger reaction from India," professor Chaulia told RT.
India has a history of taking military action in the Maldives to preserve a ruler that favors ties with New Delhi. In 1988, its troops came to the rescue of Maumoon Abdul Gayoom, one of the two recently arrested ex-presidents, as he was facing a coup. This time, the situation is too complicated for that kind of incursion.
"The Maldives is a divided society," professor Chaulia explained. "Unfortunately, it is a bit like the Syria war between two factions that have roughly equal support. Half of the population of the Maldives still support the incumbent president. India views it as an internal social crisis and does not believe that it can use its military to solve the problem because military intervention cannot rectify domestic discord and social polarization."
It would take an "extraordinary" slip on part of the Maldives' president for India to intervene militarily, believes Aleksey Kupriyanov, senior research fellow at Institute of World Economy and International Relations.
If President Abdulla Yameen were to suddenly agree to host a Chinese military base, or, say, disperse the parliament, or declare himself a dictator, then of course, the Indians will deploy troops.

Aleksey Kupriyanov, analyst
Should all sides play it cool, though, the crisis should be deescalated.
"Neither China nor India want it," Kupriyanov said. "The two countries are in a period of détente… As you know India and China have a territorial dispute, where China claims a part of Indian territory and India says Beijing has occupied it," the academic added, referring to the tensions over Doklam, a territory that is claimed by both China as well as India's ally Bhutan. On August 28, India and China announced that they had withdrawn all their troops from the area.
Should push come to shove, the Maldives' tiny military wouldn't last a few days against India. "The Maldives' army is not combat-worthy, compared to the Indians. Should India deploy its troops, the matter would be decided within several days, or even one day. Most [Maldivians] would lay down arms and the rest would switch over to the Indians."
There are numerous peaceful options to resolve the crisis. The difficult part is to balance them against the major player's agendas.
"If the current status quo is preserved, then of course India's image as a major country, as a potential superpower, will take considerable damage," Kupriyanov said. "Should India and China, and President Yameen, agree to roll the situation back to what it was before the state of emergency was declared, then India will be the bigger winner."
The upcoming presidential election is an opportunity that both big powers seek to exploit.
"In the period between August and October, the Maldives are having presidential elections. India at this point would benefit the most if the opposition was to have the maximum possible access to the vote, its leaders were not in jail and had no problem taking part in the election," Kupriyanov said. "China would benefit the most if Yameen were to stay in power, because he's very pro-China. Or if that doesn't work, it could secure its political and economic interests in the Maldives, perhaps with an agreement with India, in case a pro-Indian candidate wins."
For now, the world's two most populous nations are warily watching, each waiting for the other to pounce on a country of 1,200 tiny islands, barely visible on the map next to them.
Like this story? Share it with a friend!
You can share this story on social media: