'Thank you, Mama Merkel': Syrian refugee lives with 2 wives, 6 kids on benefits in Germany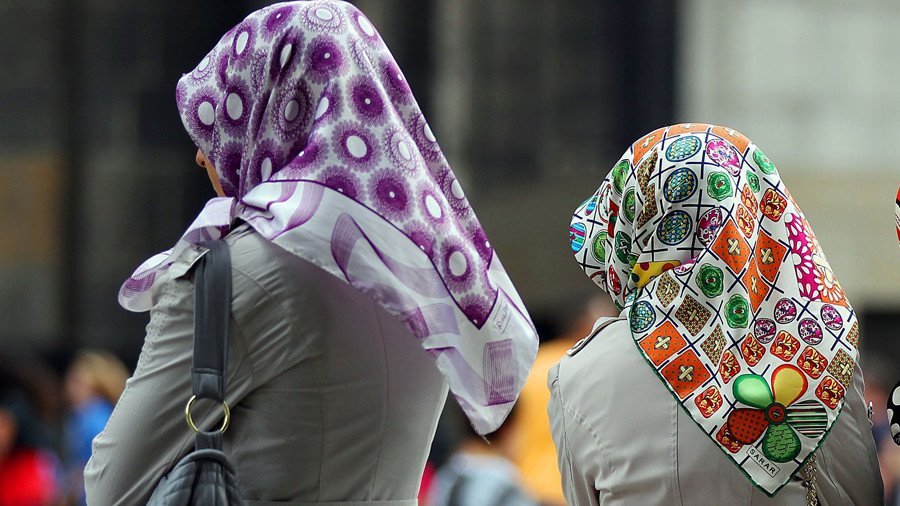 A documentary about a Syrian refugee living in Germany with his two wives and six kids has angered many. Not only is polygamy against German law, but one wife married at 13 – and the family live on state handouts.
The Spiegel TV film was aired over the weekend, telling the story of 32-year-old Ahmad A. who fled the fighting in Syria's Aleppo back in 2015 with his large family, and found a safe haven in Schleswig-Holstein, northern Germany.
The man lives in a two-story house provided by the community with two wives and six children. Despite polygamy being illegal in Germany, Ahmad was allowed to bring his second wife into the country as she is the mother of four of his kids.
Exklusiv: Der Mann, dessen Geschichte bundesweit für Schlagzeilen gesorgt hat: "Syrer darf Zweitfrau nach Deutschland holen" schreiben diverse Medien. Zum ersten Mal spricht er und seine zwei Ehefrauen. Heute Abend um 22:35 Uhr im @SPIEGELTV Magazin auf @RTLdepic.twitter.com/LfTAlRl51v

— Andrew Moussa (@AndrewMoussa_) 18 февраля 2018 г.
The authorities weren't even flustered by the fact that the Syrian married his second wife, Lina, when she was just 13 years old, below Germany's age of consent. His first wife, Betool, was 14 at the time of the marriage.
Ahmad also has a third wife in Syria, but he told Spiegel journalists jokingly that the house needed to be bigger for her to come as well. As for the man's plans for the future, he's aiming for four wives and ten children.
Lina and Betool said that they were happy to share one husband and that it was "God's will" for things to be that way. As a devout Muslim, Ahmad himself also sees no problem with having several wives as it's in line with Sharia law, which he follows.
READ MORE: Germany no longer taking in asylum seekers from Italy & Greece – report
The wives reside in separate rooms on the second floor and the man said he makes sure there's no dispute between them. The family's bedroom is located on the first floor, with Ahmad specifying that he only sleeps with one wife at a time there.
Ahmad's family live in social housing and the state provides them with an income.
"There's support here. They give us social benefits, they give us this house," Ahmad said, adding that Germany was his desired destination when he left his war-torn home country.
"I thank you very, very, very much, Mama Merkel. She is the only person who has felt the suffering of the Syrians. I also thank the Germans, even if there are racists among them. But the Germans have experienced war and show great compassion for the Syrians," he said.
READ MORE: Islam critic & member of German right-wing party becomes Muslim
The family has been granted refugee status for three years, which allows Ahmad, who is illiterate and an unskilled worker, to start looking for a job. But the man says he prefers to stay at home with his children. He isn't even aware of the amount of benefits he's getting from the German state. "I do not know. The money is just transferred to me. I go to the bank and pick it up," Ahmad said.
However, many didn't feel particularly happy about Ahmad and his way of life, which contradicts German traditions and legislation. One user on Twitter pointed out that those in relations with 13-year-olds are charged with pedophilia in the country. "The second (wife) is almost a child," another commentator added.
Es ist egal wie tolerant man ist, es gibt Grenzen zu achten.Das wird böse enden.

— General.Failure🌏 (@GenStedt) 18 февраля 2018 г.
"And then they ask why more and more people choose AfD," another comment read. Alternative for Germany (AfD) is a right-wing anti-immigrant party, which has been gaining momentum in the country since the start of the refugee crisis in 2015. Last year, it became the third largest party in Germany after winning 94 seats in the Bundestag in the general election.
"It doesn't matter how tolerant one is, some limits have to be respected. This will end badly," another internet user warned. One commentator even said that he was waiting for cannibals to arrive in Germany in order to see if the state will show the same respect for their culture.
Earlier in February, Wochenblatt weekly said that 34 refugees in northern Germany have brought in 130 family members to the country with them since 2015, which exceeded the number of asylum applications by a factor of four. In 2016, there were reports of a Syrian refugee bringing four wives and 22 kids to Germany. However, he had to live with only one official wife, while the other three spouses were housed separately.
You can share this story on social media: