Pro-govt Syrian fighters begin entering Kurdish Afrin despite Turkish threats – Syrian TV (VIDEO)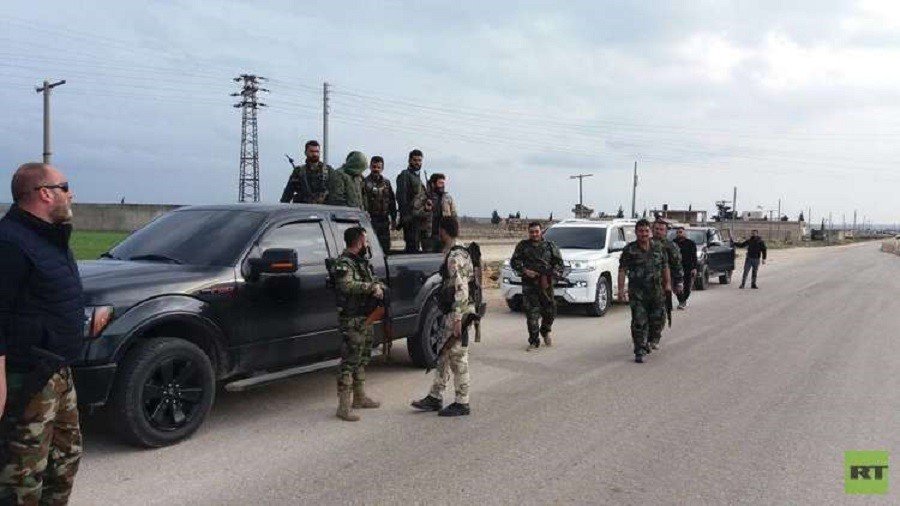 A convoy of fighters waving Syrian flags has apparently entered the northern Kurdish-held region of Afrin, which Turkey is targeting in a cross-border operation, footage on Syrian state TV shows.
The pro-government fighters were filmed entering the village of Nubul in some 20 pickup trucks. An RT source on the ground has confirmed the movement of troops to Afrin.
A reporter at the scene for Syrian state agency SANA said that the area where the fighters arrived has already been targeted by an attack from the Turkish side.
Turkish media later reported that an artillery attack on the convoy forced it to retreat.
The deployment comes after a reported deal between Damascus and Kurdish authorities, which sought the involvement of the central government amid a continued fight against Turkey and the militias supported by Ankara.
READ MORE: Turkey will lay siege to Syria's Afrin in coming days — Erdogan
Turkish officials earlier warned that their forces would lay siege to the city of Afrin if pro-Damascus fighters show up there.
You can share this story on social media: