Ancient elephants & Mayan shrine: Massive underwater caves reveal staggering history (VIDEO)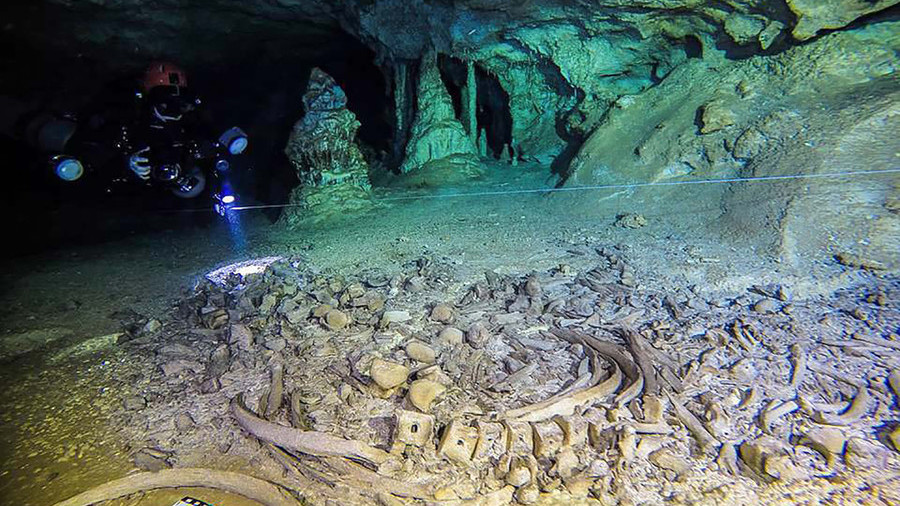 Archaeologists in Mexico have been showing off discoveries unearthed during their aquatic expeditions into the world's largest underwater cave.
Researchers from the Gran Acuifero Maya (GAM) exploration and preservation group presented ancient relics recovered from the site on Monday, including fossils of a type of ancient elephant, giant sloths and a shrine to a Mayan god. It's believed that desperate animals ventured into the caves in search of water at times of severe drought, some of which then became trapped.
READ MORE: World's 'longest' underwater cave system discovered in Mexico (VIDEO, PHOTOS)
"It's very unlikely that there is another site in the world with these characteristics. There is an impressive amount of archaeological artefacts inside, and the level of preservation is also impressive," Guillermo de Anda, an underwater archaeologist, told a press conference Monday.
Two networks of underwater caves, known as the Sac Actun and Dos Ojos, totalling 350km (217 miles) in length were discovered last month in Mexico's Yucatan peninsula. They were found to intersect at a natural pit or sinkhole, known as a cenote, in a jungle area of the coastal town of Tulum. It is hoped that the remains found within these networks will help scientists develop a picture of the cave's history, which they believe dates back more than 2.5 million years to the Pleistocene era.
READ MORE: Ancient Mayan 'Megalopolis': Laser tech reveals city within Guatemala jungle
The Yucatan peninsula is known for the number of Mayan ruins found throughout the state. It is believed that the civilization made extensive use of the cenotes for sacrificial offerings as well as travel between cities. Some cenotes are also believed to have held great religious and cultural significance. According to Mexico's National Institute of Anthropology and History, the ancient Mayans would have seen the caves as "extremely sacred places."
Think your friends would be interested? Share this story!