S. Korea all smiles at Olympics, but troops stay ready in massive SE Asia drills (PHOTOS, VIDEOS)
Published time: 17 Feb, 2018 17:17
Edited time: 18 Feb, 2018 19:31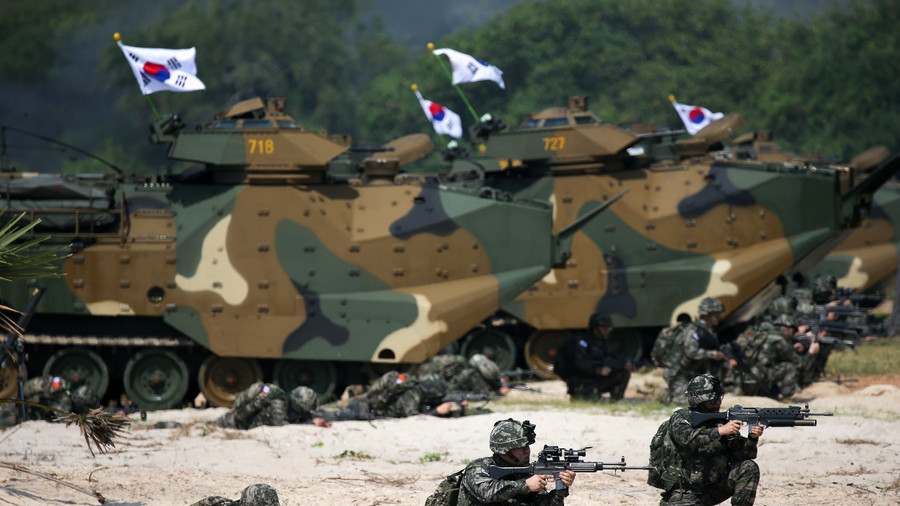 South Korea has deployed hundreds of troops to Thailand to participate in the annual Asia-Pacific Cobra Gold military exercises, taking place between February 13 and 23, organized by the US and Thai militaries.
Exercise Cobra Gold was launched in 1981, with South Korea formally joining the drills in 2010. This year, a combat unit of over 430 South Korean sailors and marines participated, while the US deployed its largest ever force of 6,800 service personnel, reports ABC News.
"The Navy and the Marine Corps have teamed up with each other so far to take part in the Cobra Gold exercise," said Lee Kwang Ho, commander of a South Korean amphibious unit, as cited by The Straits Times. "On the basis of the tradition, we will contribute to regional stability and international peace by strengthening combined operation capabilities."
South Korea, the US, Thailand, Japan, Malaysia, Indonesia, Singapore, China, and India all participated in Cobra Gold. A total of six warships, 34 amphibious assault vehicles, and 86 aircraft were used in the drills, including the US amphibious assault ship USS Bonhomme Richard and the South Korean landing ship Cheon Ja Bong.
Cobra Gold, which takes place at the Sattahip Royal Thai Marine Corps Base in the eastern province of Chonburi, is divided into three main parts: the command post exercise, the humanitarian civil assistance exercise, and the field training exercise. The week-long event culminated in a massive simulated beach landing Saturday.
The exercises are taking place during a time of heightened tensions in the region, as both North and South Korea attempt to reach some form of detente while the two countries participate in several Winter Olympics events as a unified team.
Think your friends would be interested? Share this story!