Russia tests new Arctic air-defense system (VIDEO)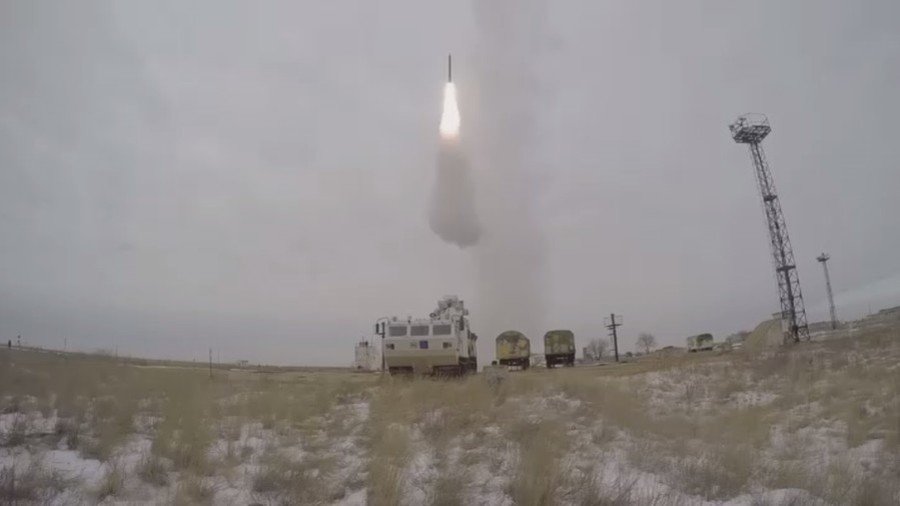 Russia's new anti-aircraft complex Tor-M2DT, developed for the extreme weather conditions of the Arctic region, has been successfully tested, intercepting two mock cruise missiles.
The Arctic modification of the short-range air defense missile system Tor has been honing its skills during military exercises at the Kapustin Yar proving grounds in southern Russia. The Tor-M2DT system fired a volley of missiles and intercepted all the mock targets.
"The live firing was carried out by a single vehicle at two targets, simulating cruise missiles, in complicated targeting and radio interference conditions," the Russian Defense Ministry said.
The latest version of the Tor system was designed specifically for the Arctic and Far North regions and is capable of operating in the harshest weather conditions of up to -50C (-58F). Tor-M2DT boasts 16 anti-aircraft missiles, capable of hitting targets some 12km (7.5 miles) away flying at altitude of up to 10km.
READ MORE: Route of the future: Russia takes the lead in Arctic exploration
The missile complex is mounted on a DT-30 twin off-road vehicle. The tracked machine can pass through weak and rough terrain, including swamps and deep snow. While the off-road vehicles have already been tested in the Arctic, the whole Tor-M2DT complex is yet to be weather-proven. The possibility of redeploying the missile system with a transport aircraft will be also explored. Following the tests, the systems are expected to be adopted by Russia's Arctic troops, the Defense Ministry said.
The new weapon was unveiled last year during the Victory Day parade in Moscow.
If you like this story, share it with a friend!
You can share this story on social media: