Earth from 40mn miles away: Asteroid-hunting spacecraft captures striking image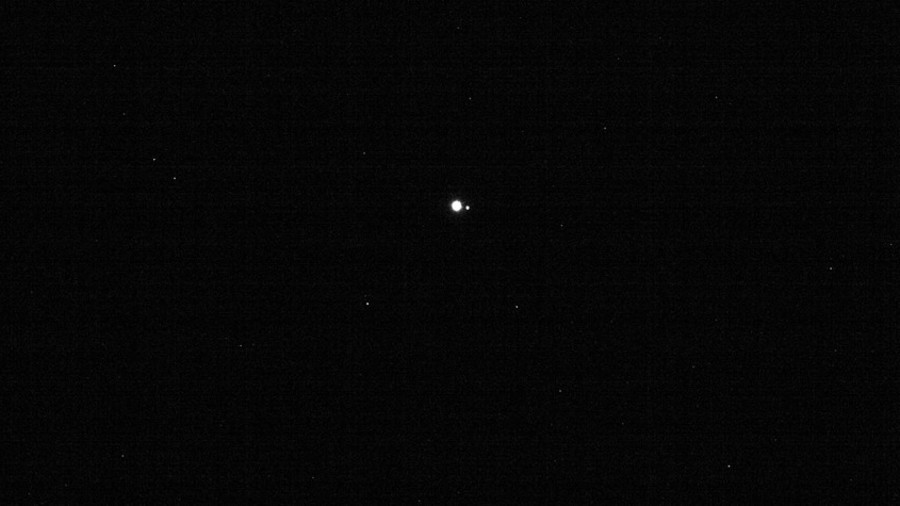 NASA has released an image of the Earth and moon sitting side by side in the vast dark galaxy – captured by a spacecraft as it turns its back on our planet as it makes its way to a massive asteroid.
The black and white image was taken 39.5 million miles (63.6 million km) from the Earth and moon. The OSIRIS-REx spacecraft carrying the camera was moving at 19,000mph (8.5km per second) away from Earth on January 17.
READ MORE: 'Potential hazard' asteroid Phaethon bigger than first estimated (PHOTOS)
Earth is the biggest and brightest circle, in the middle of the image, while the moon is on its right. The image was captured using the NavCam1 camera, part of the Touch-And-Go Camera System (TAGCAMS). The camera is a greyscale imager, meaning it captures images only in shades of gray.
The OSIRIS-REx mission launched in 2016 with the aim of taking samples from the near-Earth asteroid Bennu. It's hoped it will reach its target by August and will take a sample in July 2020. The sample will be parachuted back to Earth in a canister in 2023.
A number of constellations were also captured in the image. Pleiades in the Taurus constellation appears on the upper left of the image. Hamal, the brightest star in Aries, is seen in the upper right corner of the image.
Like this story? Share it with a friend!