Putin & Saudi King Salman discuss Syria, Qatar by phone
Published time: 14 Feb, 2018 14:37
Edited time: 26 Mar, 2018 10:40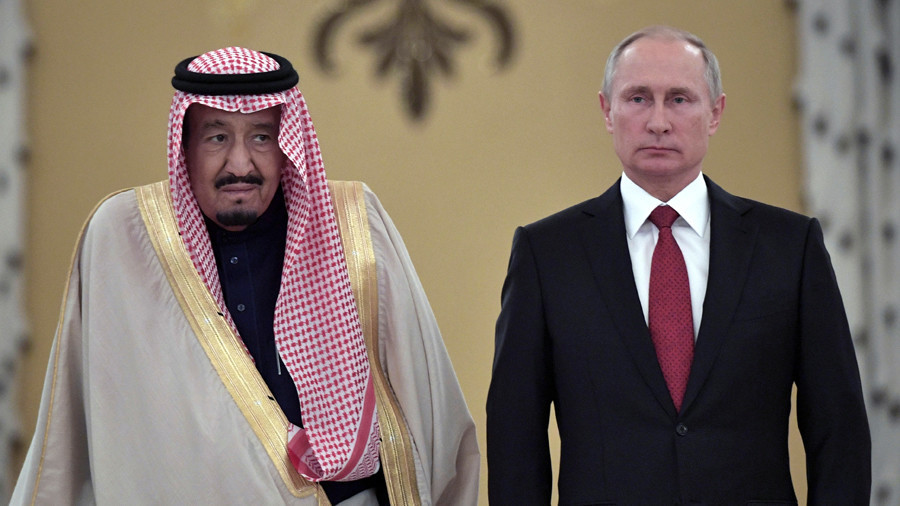 Russian President Vladimir Putin and Saudi King Salman have discussed the situation in Syria following the National Dialogue Congress in Sochi, as well as cooperation between the two countries on the world oil market.
The two leaders talked over the phone on Wednesday, the Kremlin's press service said. Russia's President and the Saudi King exchanged their opinions on the Syrian crisis, "taking into account the results of the Syrian National Congress in Sochi."
The Syrian National Dialogue Congress was held in Sochi, Russia, late in January, bringing together over 1,300 delegates representing different parts of Syrian society. The Saudi Arabia-based High Negotiations Committee (HNC), an umbrella body created back in 2016 to represent some of the Syrian rebel groups at the Geneva talks, however, boycotted the event, claiming they would stick solely to "credible political transition" in the UN-sponsored Geneva format instead.
The Congress agreed to create a 150-strong committee to draft a new Constitution for the war-torn country. UN special envoy to Syria Staffan De Mistura, who took part in the Congress, praised this achievement, while Moscow expressed hopes it would "stimulate" and revitalise the Geneva peace process, which has been stalling for years.
The two sides also discussed the situation in the Middle East as a whole, including the ongoing tension between Qatar and other states in the region. "The Russian side stressed that the existing crisis is not conducive to joint efforts in battling the terrorism threat and bringing stability to the Middle East," the press service stated.
Last June, Qatar found itself at odds with its neighbors, including Saudi Arabia, Bahrain, the United Arab Emirates, Egypt and Yemen. The Saudi-led block accused Doha of supporting terrorism and cut diplomatic ties, imposing travel restrictions and an economic blockade on the small-yet-wealthy Gulf state. Qatar denounced the accusations as "lies" and the situation reached a stalemate.
Regional issues aside, the two leaders discussed prospects for cooperation between Russia and Saudi Arabia, including coordinating their activities on oil market and defense sales.
READ MORE: Relations between Russia & OPEC constructive, based on trust - Novak
The cooperation will lie within the boundaries of the agreements reached during King Salman's visit to Russia last October, when Russia and Saudi Arabia-led OPEC have reached a landmark deal on joint oil production cuts. The policy appeared to be fruitful, contributing to bringing the oil price nosedive to a stop and stabilizing the world market.
Russia's President and the Saudi King expressed "readiness to expand fruitful coordination on the world's hydrocarbon markets," according to the Kremlin's press service, which did not provide any further details.
Like this story? Share it with a friend!