Kim Jong-un hails Seoul as gracious host despite US efforts to sabotage Olympic reconciliation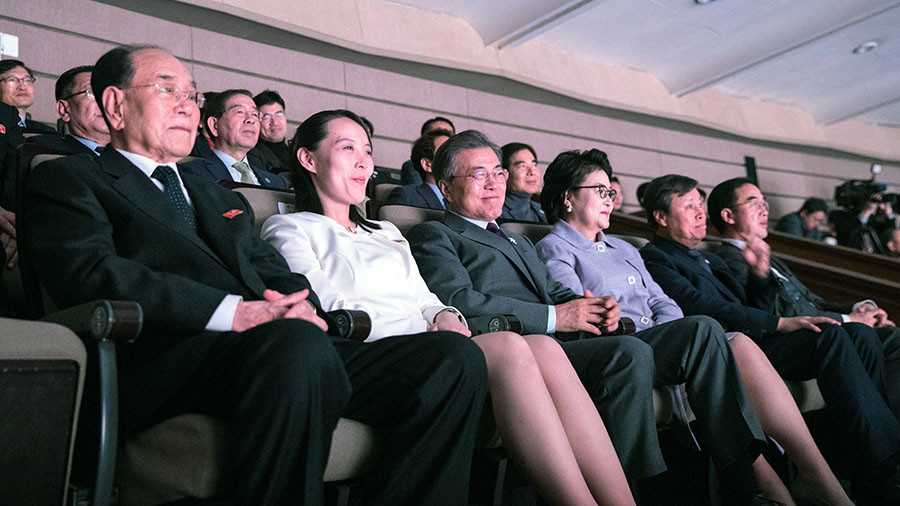 North Korean leader Kim Jong-un has thanked Seoul for being a gracious Winter Olympics host, describing the games as a positive step towards bringing peace to the Korean Peninsula. 
Kim noted the "warm climate of reconciliation" facilitated by the winter games, and "expressed thanks" for the "sincere" and "very impressive" efforts made by Seoul to welcome the North Korean delegation during their three-day visit to PyeongChang.
"It is important to continue making good results by further livening up the warm climate of reconciliation and dialogue created by the strong desire and common will of the North and the South with the Winter Olympics as a momentum," Kim said while meeting with members of the delegation upon their return to Pyongyang on Monday, according to North Korean state media. After receiving the delegation Kim issued "important instructions" aimed at cultivating "the improvement of North-South relations."
Heading up the delegation was Kim Yo-jong — Jong-un's sister and the first member of the North's ruling family to visit the South since the end of the Korean War — who reportedly relayed "movements of the US side" to her brother, a possible reference to her rather awkward encounter with Vice President Mike Pence. Pence had vowed just days earlier that Washington would not allow North Korea to "hide behind the Olympic banner the reality that they enslave their people and threaten the wider region."
Pence also said that the US was committed to isolating North Korea economically and diplomatically "well beyond the Olympics — when the Olympics are a long and distant (sic) memory."
But Washington's hardline stance apparently did not sway Seoul. President Moon was photographed giving Yo-jong a warm welcome during the opening ceremony, having previously expressed his hope that the Olympics would "become a venue that leads to dialogue for the denuclearization of the Korean peninsula as well as to establishing peace on the Korean peninsula."
For the first time since 1991, athletes from North and South Korea marched under a unified banner during the games' opening ceremony. The two nations also combined their ice hockey teams – and Pyongyang even sent an armada of cheerleaders to give the joint teams some additional support.
Like this story? Share it with a friend!
You can share this story on social media: