'Climb, climb, climb!' Female pilot's swift maneuver thwarts mid-air collision over Mumbai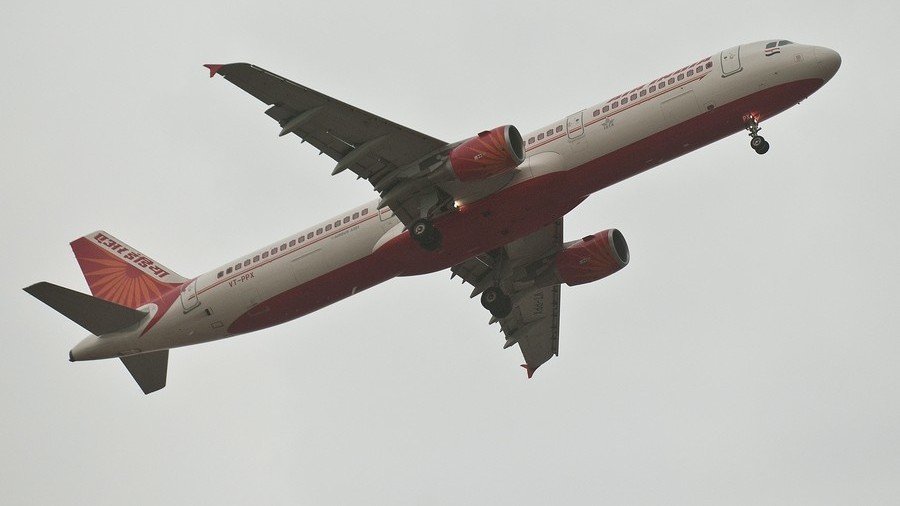 Two Indian passenger jets were speeding towards each other over Mumbai, but a swift last-minute maneuver by a female Air India captain miraculously thwarted a disaster that would have cost 261 lives.
Passengers aboard two Indian flights may have experienced the scariest – and luckiest – moment of their lives last week, when an Airbus A320neo (flight UK 997) owned by regional carrier Vistara flew dangerously close to Air India's A319 (flight AI 631), local media report. The Vistara flight departed from Delhi to Pune with 152 on board, while the Air India plane was travelling from Mumbai to Bhopal carrying 109 people.
In the middle of the flight, the captain on the Vistara plane took a toilet break, leaving his female co-pilot alone in the cockpit. To abide by international aviation rules requiring two crew members to be on the flight deck at the same time, a stewardess came in, the Times of India reported. In the Air India cockpit was another flying lady, captain Anupama Kohli.
Somewhere over Mumbai, local air traffic control (ATC) directed the Vistara pilot to keep descending to 27,100 feet, but this was a mere 100 feet above the altitude Air India's A319 was flying. At this point, the planes were "barely seconds away from each other," an aviation source told the newspaper.
The planes got so close to one another that captain Kohli could see Vistara's jet approaching and hear ATC asking its pilots why it was traveling at this altitude. The Vistara pilot responded: "No, you told me to come to this level."
Moments before the mid-air crash could occur, the traffic collision avoidance system (TCAS) sounded an alarm in the Air India jet's cockpit: "Climb, climb, climb!" Captain Kohli reacted swiftly, climbing and turning right to veer away from Vistara's A320.
Later, Air India said "something had gone wrong between the Vistara pilot and the ATC as the Vistara aircraft kept descending while the ATC was giving different instructions," according to local media.
A Vistara spokesperson, in turn, commented in a tight-lipped statement that both pilots "followed their SOPs [standard operating procedures] for such cases to avoid it and flew their aircraft to uneventful landings." It added that the safety of passengers and crew is "our first priority."
The news comes just a day after an Antonov An-148 regional jet owned by Russia's Saratov Airlines crashed minutes after take-off outside Moscow, killing all 65 passengers and six crew on board. Bad weather, human error or mechanical issues are being investigated as possible causes.
Mid-flight incidents are not uncommon in India's airspace. In late January, an IndiGo A320 jet and Emirates Boeing 777 also were on a collision course over Nagpur. Both crews followed automatic systems' instructions and increased the distance between the aircraft.
You can share this story on social media: