'Would I be brave enough?' US veteran hails courage of fallen Russian pilot, offers to help family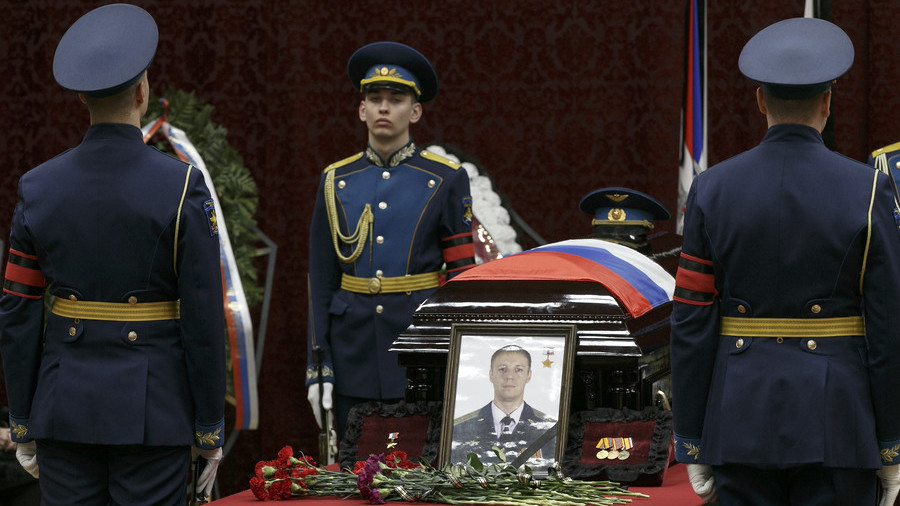 The death of Russian Air Force pilot Major Roman Filipov has touched the heart of one US military veteran, who contacted RT in a bid to help the family of the fallen serviceman.
Major Filipov died after his plane was shot down by militants in Syria's Idlib province on February 3. After ejecting from the aircraft, he engaged the enemy before detonating a grenade as terrorists closed in on his position.
"I read Major Filipov's story with great interest and sorrow," former US Enlisted Air Crew member Steve Sola wrote in an email to RT. "I'm sure the Russian Air Force will take care of his widow and child, but can a little more be done?"
Sola offered to contribute to any fund set up to support the bereaved family and, in an interview with RT, was keen to express his admiration for the pilot's bravery.
"It just broke my heart that he had to die like this," said Sola. "I wonder if I would be brave enough to do what he did.
"He knew what his chances were and he knew what he had to do. And he knew that he was never going to be captured.
READ MORE: Thousands pay last respects to Russian hero Su-25 pilot downed in Syria (VIDEO)
"It's very hard decision to make but I salute him," Sola said, his voice shaking as he held back tears. "He did what he had to do. He knows what can happen to other troops and what has happened to his comrades."
RT has contacted the Russian armed forces to inquire whether a special fund for Major Filipov's family has been set up and is awaiting a response.
Russia's defense minister Sergei Shoigu, alongside other high-ranking military commanders, paid their last respects to the pilot at the Chkalovsky airfield outside Moscow. The body of Major Filipov was then transported to his hometown of Voronezh, where some 30,000 people attended his requiem ceremony.
He was buried with military honors on Thursday. Almost 2,000 people came to the cemetery to pay tribute to the hero pilot, queuing to lay flowers at his grave. Three volleys were fired to bid final farewell to Filipov, who was posthumously awarded Russia's highest honor, the Hero of Russia medal.
You can share this story on social media: