'Minority Report' China: Railway police use facial recognition glasses to fight crime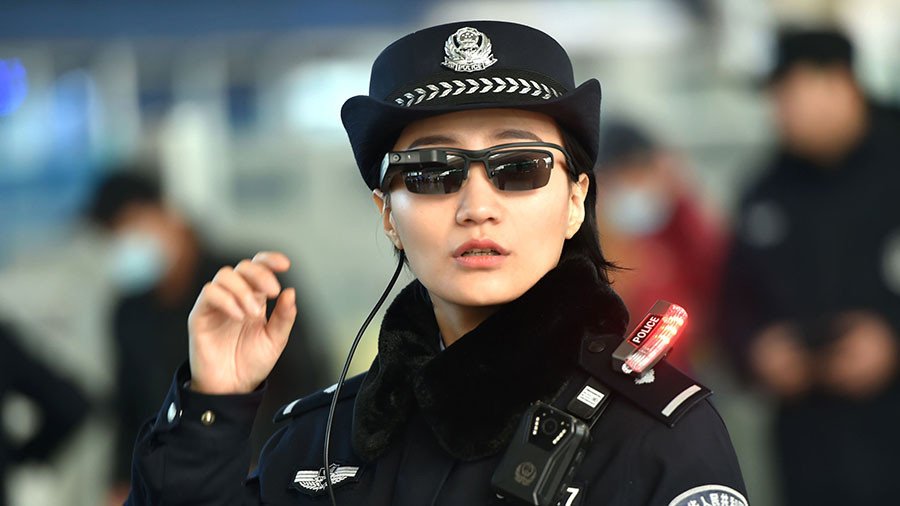 Chinese police are using facial recognition glasses to identify 'fugitives' passing through a crowded train station. The futuristic technology may be the next step in making sure no criminals escape justice.
Officers deployed at Zhengzhou East high-speed rail station in the Henan province are the first in the country to don the cutting-edge, tinted glasses in the name of catching criminals.
The glasses contain in-built facial recognition software that allows police to scan passengers travelling through the station. Specifically designed for police use, the smart spectacles are connected to a tablet-like device that allows officers to take mugshots and compare them to a police database.
The app brings up the suspect's vital information, including name, ethnicity, gender and last-known address. It also informs police if the individual is on the run from the law, the address of where they are staying and information related to their internet usage, according to AFP.
Authorities say the AI glasses have so far been instrumental in identifying seven fugitives related to hit-and-run and human trafficking cases in addition to 26 suspected identity thieves, the South China Morning Post reported.
Police say the glasses will be used to screen fugitives and illegal travelers using false identities during the spring festival rush - one of the busiest travel periods in China.
389 million train trips are expected to be made over the festival period, from February 1 to March 12, according to the National Development and Reform Commission. Zhengzhou East is one of the largest railway interchange stations in China.
Meanwhile, several Chinese railway stations including Zhengzhou are offering "face swiping" check-in services, similar to automated passport checks at airports, during the rush period.
AI is big business in China as tech companies work closely with government agencies to create a vast digital surveillance system. China's largest social media network, WeChat, is set to launch ID cards this year in conjunction with the Chinese Ministry of Public Security, that will be recognized as official identification by the state.
READ MORE:'Minority Report' AI to collar suspects before they do the crime
Plans are also underway to build a giant facial recognition database to identify any citizen within seconds. The goal is for the system to be capable of matching someone's face to their ID photo with about 90 percent accuracy.
If you like this story, share it with a friend!
You can share this story on social media: