4 killed, 220+ injured as 5 buildings collapse in 6.4 Taiwan quake (VIDEOS)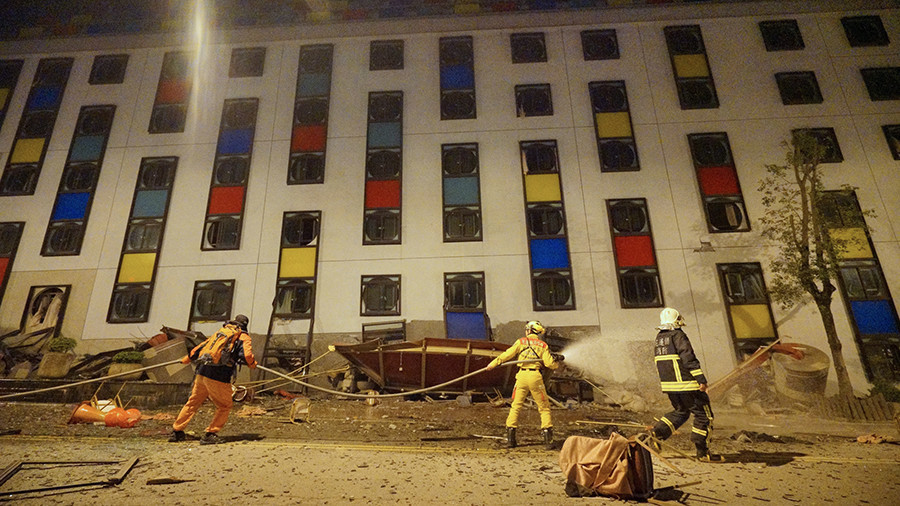 A 6.4-magnitude earthquake struck the east coast of Taiwan, causing a hotel and several other buildings to collapse. At least four people were killed and more than 220 others injured, while about 145 remain missing.
The epicenter of the quake was reportedly 10km deep, some 22km east-northeast of Hualien City, the US Geological Service (USGS) reported. The initial 6.4 quake, which struck at 11:50pm local time, was followed by a number of aftershocks, with at least four measuring five points and higher on the Richter scale, the USGS data shows.
As of 9:00am Wednesday, the Central Disaster Response Center counted four deaths and 225 injuries in Hualien.
At least five buildings collapsed, China Global Television Network (CGTN) reported. Images posted online appear to show the first floor of the Marshal Hotel in Hualien severely damaged, with parts of the building crumbling onto the sidewalk.
Multiple injuries have been reported and rescue workers have been deployed to the scene. According to the Central Disaster Response Center, at least three people remain trapped underneath the debris in Marshal Hotel.
According to local media, in addition to Marshal Hotel, the quake damaged the 2nd Cloud Gate Tsui Community Building, where up to 20 people remain trapped. Two community buildings on Kwong Shing Street also suffered damages. Authorities believe that more people are still trapped inside those buildings.
Another hotel on Yongxing Road also tilted as a result of the quake. It is believed everybody made it out safely. The Hualien Armed Forces General Hospital, which is located next to the hotel, has also reportedly been damaged. Two bridges in Hualien City have been sealed off following damage, including the Qixingtian Bridge, Taiwan News reported. Floods in all parts of the city are also reported as a result of several burst water pipes. It is also being reported that around 1,900 households have been left without electricity. Shelters have been set up to care for those in need. Rescue work continues throughout Hualien city.
"The president (Tsai Ing-wen) has asked the cabinet and related ministries to immediately launch the 'disaster mechanism' and to work at the fastest rate on disaster relief work," the president's office said in a statement.
You can share this story on social media: