At least 1 dead as Japanese helicopter crashes yards from kindergarten (PHOTOS, VIDEOS)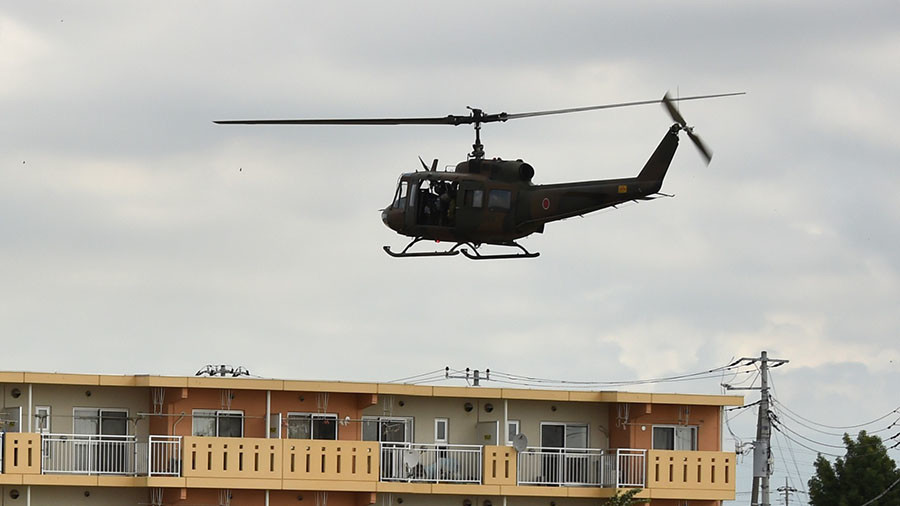 A Japanese army helicopter erupted into a ball of flames after it crashed into a residential area of western Japan, killing at least one person, according to reports.
The Self-Defense Forces (SDF) Apache AH-64 helicopter crashed into a house in the city of Kanzaki, Saga Prefecture, on Monday. One of the two people on board died in the crash, Reuters reported, citing Defense Minister Itsunori Onodera. The second occupant is missing.
"The helicopter crashed and burst into flames," Onodera told reporters. "We're still confirming the scale of casualties."
The helicopter was trying to land after the crew reported irregularities, according to the Defense Ministry. NHK reported that the crash occurred during a test flight following maintenance.
The house where the chopper crashed erupted in flames. All four residents of the home were confirmed safe, according to investigative sources cited by the Japan Times.
The incident occurred near a school and a nursery. None of the kindergarten children were harmed, although one elementary school student reportedly suffered a minor injury as a result of the crash.
A total of 14 fire engines and three ambulances were deployed to the crash site, according to local firefighters.
Prime Minister Shinzo Abe has issued an order to halt AH-64 flights until all safety issues are resolved.
You can share this story on social media: