US military should 'feel ashamed' over aircraft incidents – Okinawa governor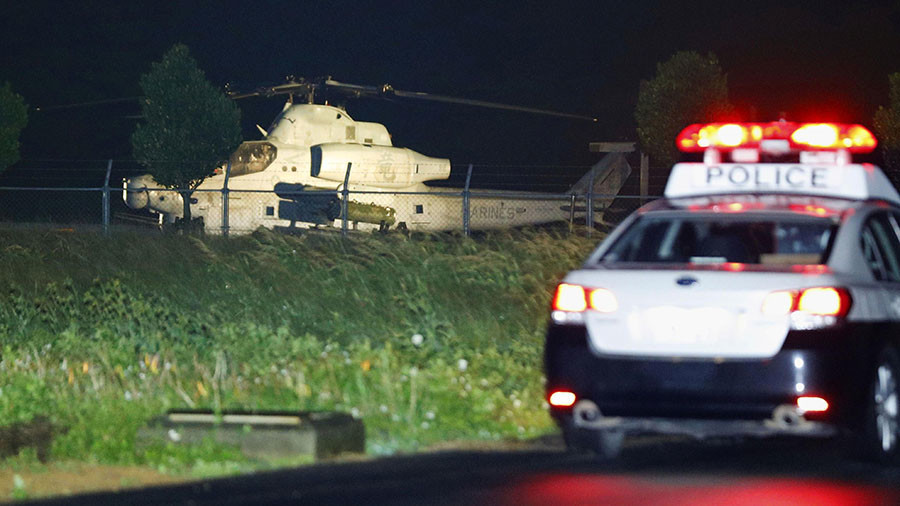 The US should be ashamed of its lack of control over its activities in Okinawa, the island's governor said, referring to a series of incidents involving US military aircraft which has caused serious concern among locals.
"I want them [the US military] to feel ashamed of their inability to be in control of what they are doing," Okinawa governor Takeshi Onaga said on Tuesday, as cited by AFP. "I am lost for words, really," Onaga said, reacting to recent incidents on the island, which is home to nearly 1.1 million residents.
One of the latest incidents involving US aircraft took place on Monday. An AH1 attack helicopter made an emergency landing on the premises of a hotel in the village of Yomitan after a warning light had come on. The site is some 300 meters (980ft) from residential homes.
Later it was revealed that the incident was allegedly caused by a glitch in the tail rotor, Japanese media reported. Also on Monday, a US heavy-lift transport chopper evacuated a disabled US helicopter which had landed on a beach on the eastern coast of Ikeijima Island, near Okinawa, on Saturday.
US Defense Secretary James Mattis apologized to his Japanese counterpart, Itsunori Onodera, over the Monday incidents, a Japanese Defense Ministry spokesman told AFP. "The minister said there was an apology from Secretary Mattis," the spokesman said.
Onodera confirmed to journalists that he had indeed held a teleconference with Mattis about the incidents, and that he hoped to head to Hawaii to meet US Pacific Commander Harry Harris, to discuss the matter. "I told him [Mattis] about the issue, raising concrete examples of various accidents that happened in September, October, November, December last year and January this year in Okinawa," Onodera told reporters.
Okinawa, home to less than 1 percent of Japan's population, hosts nearly half the 47,000 US troops based in the country, according to the Pentagon.
Okinawa residents repeatedly staged mass protests against US military aircraft flying over local schools, endangering youngsters. In December, an American helicopter lost a metal-framed window while flying over an elementary school. The helicopter part, weighing some 7.7kg (17lbs), injured a boy after falling in a schoolyard where some 50 pupils were playing.
US military personnel on the island have been a cause of concern among locals for years. A major incident took place in August 2004, when a helicopter crashed into a building at Okinawa International University. Fortunately the building was largely vacant at the time because of the summer break. An investigation into the incident said the crash was a result of poor aircraft maintenance.
You can share this story on social media: