'Tantamount to a coup': Maldives military surround government buildings – reports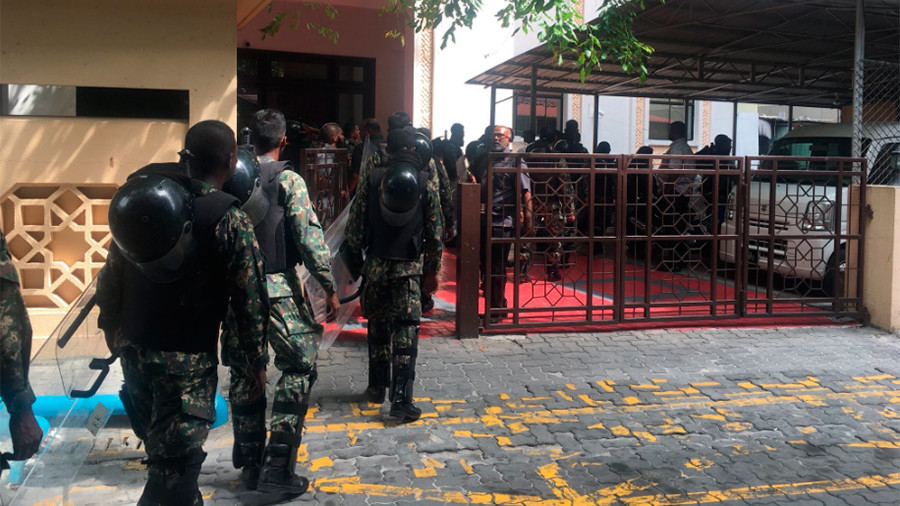 Armed soldiers have reportedly shut down the Maldives parliament just days after the country's Supreme Court overturned terrorism convictions against exiled former president Mohamed Nasheed.
Security forces surrounded government buildings, including the People's Majlis parliament building, in the capital Male on Sunday. The opposition Maldivian Democratic Party (MDP) has accused current President Abdulla Yameen of attempting to "cling onto" his majority leadership.
READ MORE: 'It's a coup': Thousands protest power transfer from Barcelona to Madrid (VIDEO, PHOTO)
The events come after two politicians who were ordered to be reinstated to parliament were reportedly arrested by police Sunday. According to Reuters, the men were part of a 12-person contingent that defected from Yameen's ruling party last year.
Last Thursday, the Supreme Court of the Maldives ordered that nine dissidents be re-tried, including ex-president Nasheed, after it found their convictions on charges of terrorism to be based on "political motivations". Amnesty International has also slammed Nasheed's 2015 conviction, labelling the charges "deeply flawed".
Attorney General Mohamed Anil suggested Sunday's parliament closure was a move to resist an impeachment of Yameen. "We have received information that things might happen that will lead to a national security crisis," Anil said.
READ MORE: Fox News under fire for reporter's claims of White House 'coup' (VIDEO)
"The information says the Supreme Court might issue a ruling to impeach or remove the president from power," he added.
Writing on Twitter Sunday, MDP leader Nasheed called on the current president to resign and accused the government's actions as being "tantamount to a coup".
Statements made today by AG Anil, CDF Shiyam and Acting CP Nawaz, to disobey SC orders is tantamount to a coup. They, and President Yameen must resign immediately. Security services must uphold the constitution and serve the Maldivian people.

— Mohamed Nasheed (@MohamedNasheed) February 4, 2018
"We call on the police to release the MPs immediately, and to stop following unlawful order, to stop obstructing the lawful mandate of parliamentarians," said MDP official Ibrahim Mohamed Solid. "In a desperate attempt to cling onto power, President Yameen has illegally overrun the state: his Attorney-General has illegally assumed the powers of the apex court, while the military has overrun the legislature."
Think your friends would be interested? Share this story!
You can share this story on social media: