Russian babushka wades barefoot through river in bitter cold (VIDEO)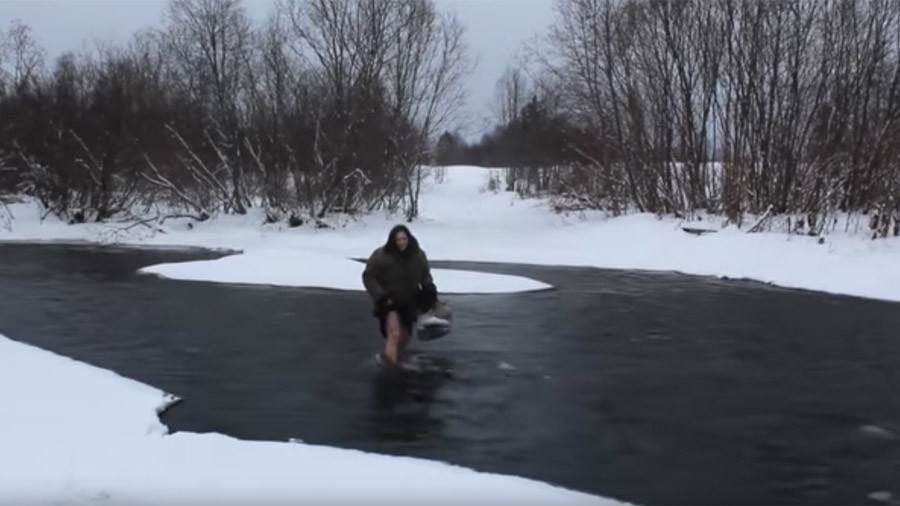 Below-freezing temperatures did not deter an elderly Russian woman from walking barefoot across a river in Vologda Region. The brave soul, who seemed unfazed by the bone-chilling cold, said she just had to go buy some bread.
There's no bridge to help Lyudmila Galikova get to the nearest grocery store, so wading through the river has become a part of her daily routine.
The video shows the head-scarfed babushka calmly taking off her warm Valenki boots and standing barefoot in the snow for several minutes before crossing the freezing river, making sure her skirt doesn't get wet.
- "So, you don't need a bridge, do you?" she is asked in the video, published by Newsvo.ru.
- "Yes, I do," Lyudmila replies. "There was too much water in the river in the past year. I'd buy a lot of bread, but the problem is I have to hold both my clothes, my bag, and the bread while crossing the river."
Lyudmila says walking by road would take her 40 minutes to get to the store, but the cross-river route takes only a quarter of an hour. She is a true optimist: "Where there's a will, there's a way," she says.
Meanwhile, social media users have lashed out at the local authorities, urging them to build a bridge, while noting that crossing a river might not be the best option for everyone.
You can share this story on social media: