Russian PM Medvedev, FM Lavrov & other top figures included in US Treasury's 'Kremlin List'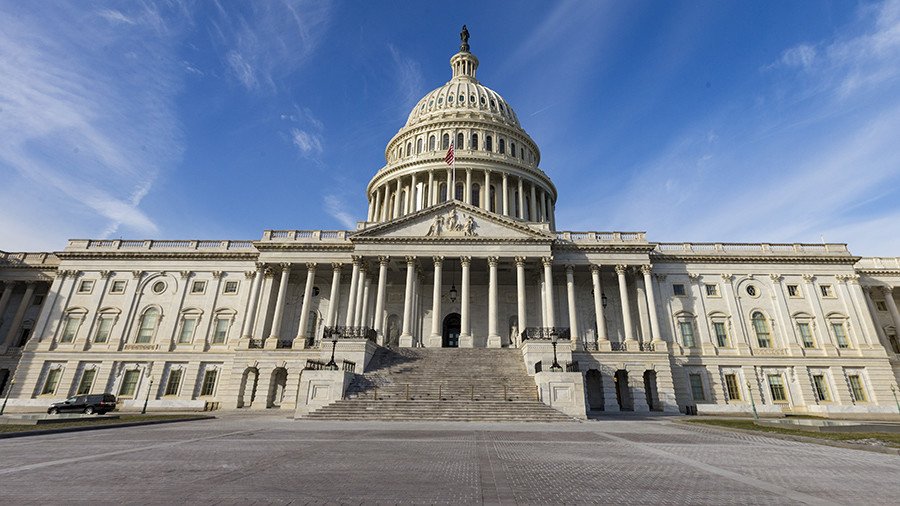 The entire Russian government is included in the US Treasury's 'Kremlin List,' which also features scores of influential businessmen. Moscow slammed the report, saying it virtually amounts to a breakdown of ties.
The document is part of a sanctions law signed by Trump in August, which targeted Russia in retaliation for alleged interference in the 2016 presidential election – a claim which still lacks any evidence.
READ MORE: US opens 'Guantanamo for global business' by releasing 'Kremlin List'
The first part lists a total of 114 Russian political figures, including Kremlin spokesman Dmitry Peskov, head of the Presidential Administration Anton Vaino, Prime Minister Dmitry Medvedev, and First Deputy Prime Minister Igor Shuvalov, as well as all Russian ministers, including Foreign Minister Sergey Lavrov and other senior officials.
Apart from Defense Minister Sergey Shoigu and his deputies, the 'Kremlin List' features other top security officials, including head of Russian Security Service (FSB) Aleksandr Bortnikov.
It also names Dmitriy Kochnev, the head of the FSO – an agency tasked with protecting high-ranking state officials.
Viktor Zolotov, the head of the National Guard Service (Rosgvardiya), is also among the "big guns" mentioned by the US Treasury.
The Russian business world also has its fair share, with 96 businessmen, including the heads of the biggest banks – such as Sberbank and VTB – making the list. The heads of state gas company Gazprom and state oil company Rosneft, as well as the heads of major transport companies such as Russian Railways and Aeroflot are on the list.
The list also includes Russian tycoons Alisher Usmanov and Roman Abramovich. Uzbek-born billionaire Usmanov is among the world's 100 richest people, with a net worth of more than $15 billion. He made his fortune through metal and mining operations, and also has shares in media companies and Arsenal Football Club.
Abramovich is arguably the most famous football-club owner from Russia, having purchased Chelsea FC in 2003 and invested millions signing superstar players for the team. Apart from his investment in sports, he also owns stakes in steel giant Evraz and Norilsk Nickel.
According to the report, people featured in the list were selected on the basis of "individuals' official position in the case of senior political figures, or a net worth of $1 billion or more for oligarchs."
Despite being a part of the sanctions law, the document notes that "it is not a sanctions list, and the inclusion of individuals or entities in this report… does not and in no way should be interpreted to impose sanctions on those individuals or entities."
The report adds that it "does not create any other restrictions, prohibitions or limitations on dealing with such persons by either U.S. or foreign persons."
Its intention is to "name and shame" Russian oligarchs, and to send a message that "Putin's aggression in terms of Russian interference in our elections will be very costly to them," said Daniel Fried, a former assistant secretary of state who led the State Department Sanctions Office, as quoted by USA Today.
The report also has a "classified annex" that could include other people with a net worth below $1 billion, according to the US Treasury's document.
Hitting back, Russian Senator Vladimir Dzhabarov slammed the US Treasury's list, saying that it almost means a breakdown of bilateral relations.
"Formally our countries have relations, but including in the sanctions list almost all our country's leadership means that those relations automatically break down," he said.
READ MORE: 'Show of impotence': Anti-Russia sanctions futile, only harm US business – Moscow
His colleague Konstantin Kosachev, head of the upper house's Committee for International Relations, sarcastically noted that the US just "rewrote the Kremlin phone book" in a desperate attempt to find any compromising evidence on Russian officials. The senator also painted a grim picture of the move's outcomes.
"The consequences are extremely toxic and will undermine the prospects of cooperation for years to come. Those relations will never be normal, at least while Washington is ruled by the current generation of politicians," Kosachev wrote on Facebook. He added that those politicians maintain a Cold-War mentality and are obsessed with the idea of "American exceptionalism."
Think your friends would be interested? Share this story!
You can share this story on social media: