Trump & Pence effigies burned in Palestinian mock execution (PHOTOS, VIDEO)
Palestinian protesters carried out a mock execution of US President Donald Trump and Vice President Mike Pence, culminating in effigies of the pair being burned. The spectacle comes amid worsening US-Palestinian relations.
The staged hanging took place at Aida refugee camp near Bethlehem in the West Bank to show the community's "rejection" of US budget cuts to the United Nations Relief and Works Agency for Palestine Refugees (UNRWA).
Before the execution, demonstrators held up a banner with photos of Trump, Pence and Netanyahu overlaid on a US flag – all marked with an X. Text on the banner read: "Zionism = Nazism = Fascism = USA = ISIS = Terror."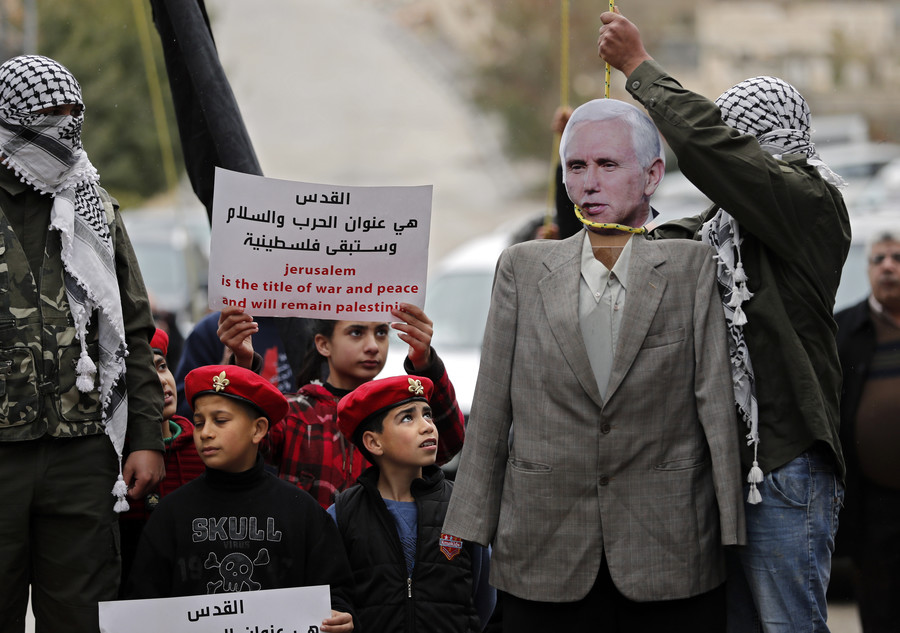 The effigies were raised over wooden pallets flanked by the Palestinian flag. Children stood among the crowd holding banners reading: "Jerusalem is the title of war and peace [sic] and will remain Palestinian."
A livestream of the mock execution was broadcast by independent Palestinian TV station, Wattan News Agency. A cardboard Trump was set alight first before eventually falling to the ground where demonstrators stamped on his face. A charred Pence cutout fell later.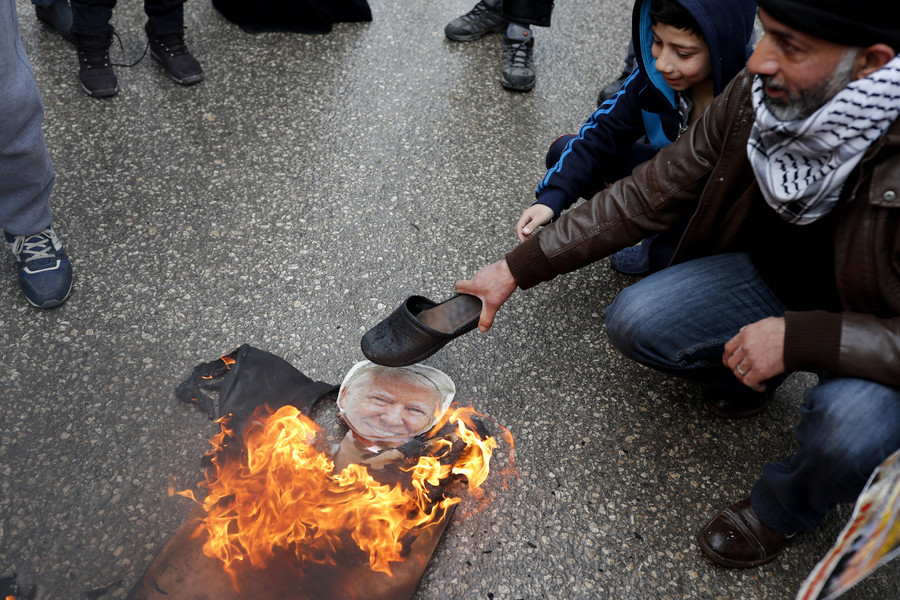 Palestinians froze their ties with Washington last November after the US closed the Palestine Liberation Organization (PLO) office in the capital. Relations worsened in December after Trump formally recognised Jerusalem as the capital of Israel, sparking violent protests on the West Bank and the Gaza Strip.
READ MORE: Negotiate or lose 'hundreds of millions' in aid, Trump tells 'disrespectful' Palestinians
Earlier this month the US State Department announced it was withholding a total of $100 million in payments to UNRWA, calling on other nations to contribute more. The US is the largest donor to the agency. State Department spokeswoman Heather Nauert denied the US was withholding $65 million to punish the Palestinians and said the funds may be made available in the future.
Trump reiterated his threat to withdraw aid entirely at the World Economic Forum in Davos this week, warning the Palestinians must enter peace talks with Israel if they want US aid. UNRWA provides free schooling to half-a-million Palestinian children in Gaza and the occupied West Bank
Protests were also held on Saturday at other refugee camps on the West Bank and outside UN offices in Gaza calling for urgent action in response to the UNRWA cuts.
You can share this story on social media: