'Red God': Stalin statue erected in Berlin street… to recreate the past (VIDEO)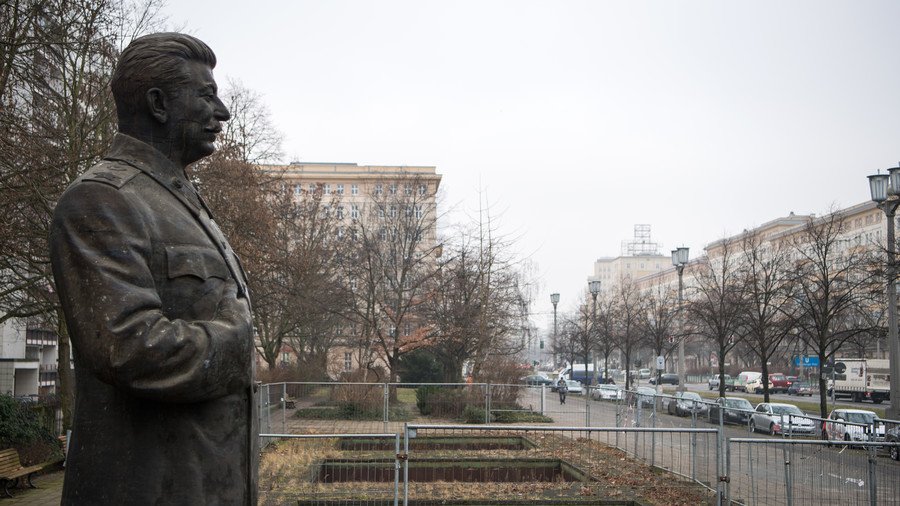 Germans have decided to turn back time it seems by placing a giant statue of Soviet leader Joseph Stalin on a Berlin street that used to bear his name. Stalin's "comeback," however, proved short-lived.
Berlin residents had a blast from the past when they stumbled upon a huge statue of Stalin on one of the city's eastern streets, where a similar monument stood in the years after the Second World War. The 4.5-meter-high statue, weighing 2.3 tons, was placed on Karl Marx avenue, which once bore Stalin's name between 1949 and 1961.
Those behind the statue's surprise appearance went to extraordinary lengths, ordering a monument all the way from Mongolia. It belongs to the same series as the monument that once decorated East Berlin – the then-capital of East Germany.
The historical artefact, however, did not stay in place for long and was soon removed. It was part of a photo opportunity and promo for a new exhibition that opened in the German capital this week.
Titled "The Red God: Stalin and the Germans," the exhibition was organized by a museum and memorial to the victims of political oppression. It opened in the former central prison of the notorious East German Communist Ministry of State Security, the Stasi.
The exhibition shows how the officials of the German Democratic Republic (GDR) adopted and cultivated the cult of Stalin. Notably, it outlasted the Soviet leader himself, becoming stronger after his death. One German town was named after Stalin and his monuments were erected across the country on "voluntary donations," the German Tagesspiegel daily reports.
In the GDR, Stalin was described as the "greatest genius of our era," a description of the exhibition at the German capital's museums' internet portal says. The installation features "numerous rare objects, including films and photos" showing the extent of the Stalin cult in East Germany. It also exhibits photos of the Germans who were arrested and sent to the USSR during Stalin's rule.
You can share this story on social media: