Russian gay couple claim their marriage was recognized in Russia, but there's a catch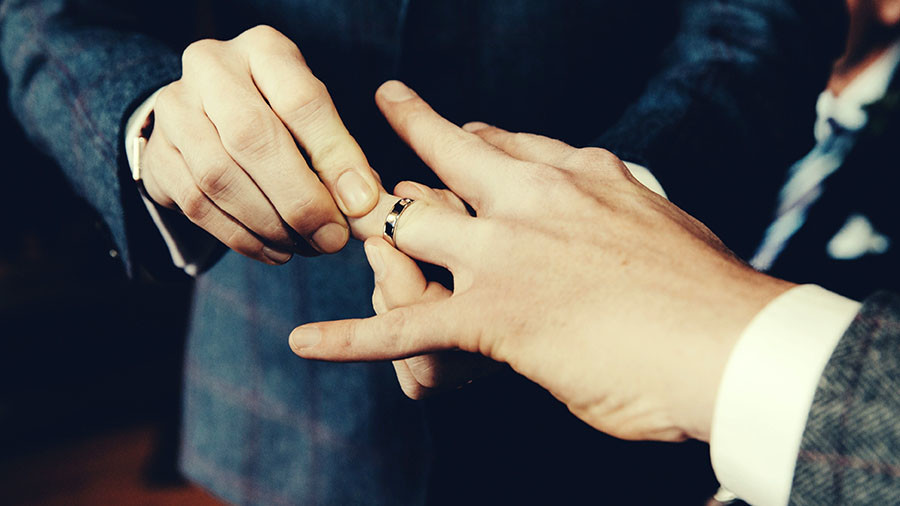 A gay couple told RT that they were "astonished" when Russian authorities recognized their same-sex marriage, after it was registered in Denmark. The Interior Ministry later put the men's passports on a list of invalid IDs.
The two Russian men, Evgeny Voytsekhovsky and Pavel Stotsko, reiterated their eyebrow-raising claim in an interview to RT after having announced it to another media outlet. They said they went to Copenhagen as tourists and registered their marriage, in accordance with the law in Denmark. They had their Danish certificate confirmed by a notary and brought it home to ask for recognition by the Russian authorities. They said they expected resistance, but a registrar clerk simply stamped their domestic IDs and filled their names into what they see as an official recognition of their union.
The national Russian ID is similar to an international travel passport and is issued to a Russian citizen once he or she reaches the age of 14. Some personal details like marital status, custody over children, place of residence, or even blood type is stamped in the booklet, just like an entry mark is for travelers, indicating that the document holder is registered in relevant databases.
"Same-sex marriages are recognized in Russia as it turns out, thanks to our precedent," Stotsko told RT, adding that he and his partner thought that the plea for recognition of their marriage would most likely be refused by the authorities. The clerks put the relevant stamps in the passports of the newlyweds in their presence as the passport isn't allowed to be handed over to anybody else, according to Russian law, he added.
"There was astonishment only on our faces because the MFTs staff executed the law of the Russian Federation to the letter. Furthermore, they told us that they had previous cases of marriages being registered abroad and they knew that those documents were valid. They said nothing specific about same-sex marriages, but there was no surprise on their faces. They simply executed the law and we're thankful to them," Stotsko said.
He said that there were no legal grounds for their registration plea to be turned down and referred to Article 159 of the Russian Family Code, which, he says, states that "marriages are recognized as invalid in accordance with the laws, under which they were contracted."
"If our marriage doesn't violate the laws of the Kingdom of Denmark, where it was contracted, then it can't be recognized as invalid in Russia," he explained. The Russian Constitution also says that men and women are equal, therefore "the definition of sex can in no way influence the legitimacy of a marriage."
Evgeny and Pavel showed their passports with the stamps and filled in names to the media, but their story was later questioned by the agency that they said had acknowledged their Danish marriage. The MFTs is a network of offices that serves as an interface between the public and various Russian governmental bodies.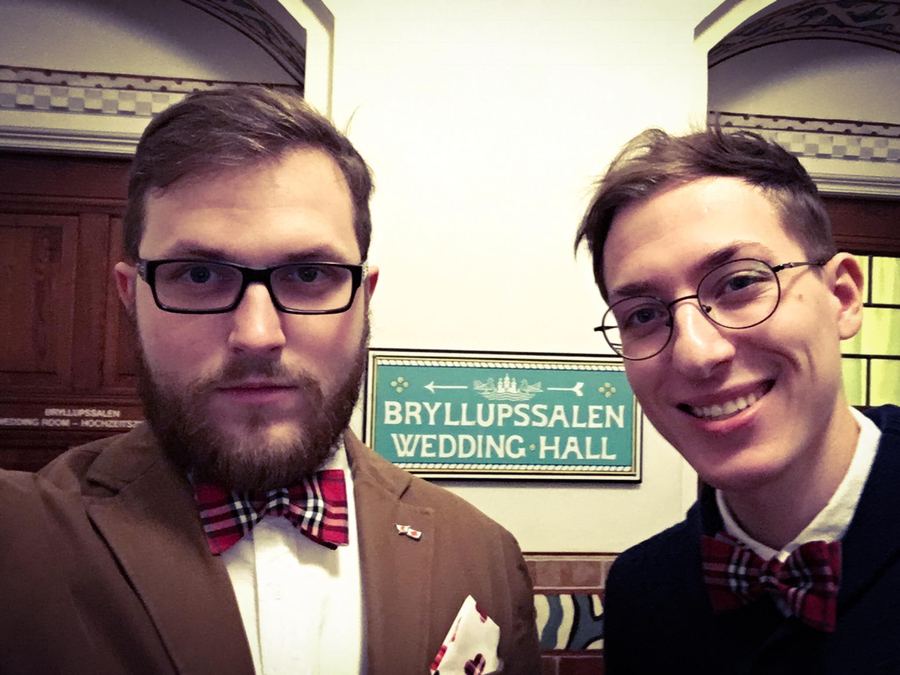 Responding to the media reports, it said its clerks have no authority to stamp in relation to marriages. This function is reserved for the Interior Ministry, it said in a statement. If the duo went to an MFTs office and asked for their foreign-registered marriage to be recognized in Russia, their domestic passports would be temporarily taken from them and sent to the proper officials.
Later on Friday, Russia's Interior Ministry said that the IDs of Voytsekhovsky and Stotsko "have been included on the federal database of invalid passports." An internal inquiry over the marriage registration stamps placed in the passports of two male citizens has been launched, Irina Volk, ministry spokeswoman, said, adding that "the employee who committed violations of Russian legislation and her direct supervisor will be dismissed from law enforcement agencies."
The unfolding controversy is reminiscent of another case, which is considered a landmark by some LGBT activists in Russia. In 2014, a woman and a transgender woman in transition registered a marriage in St. Petersburg. The pair hailed it as a successful attempt to have same-sex relationship recognized in Russia, but the authorities said that, since one half of the couple was officially male at the time, the marriage was a conventional one.
There is some confusion in Russian law about foreign same-sex marriages. The law regulating recognition of marriages registered in foreign jurisdictions does not specify partners being of the same sex as an obstacle to such recognition. This leads to a legal conflict with Russian family law, which defines marriage as a civil union between a man and a woman.
The situation is far from unique to Russia or limited to same-sex marriages. For instance, some Muslim countries recognize polygamous marriages, which are not legal in Russia.
You can share this story on social media: