Party like an astronaut! Star DJs & clubbers to join Zero-G bash aboard 'vomit comet'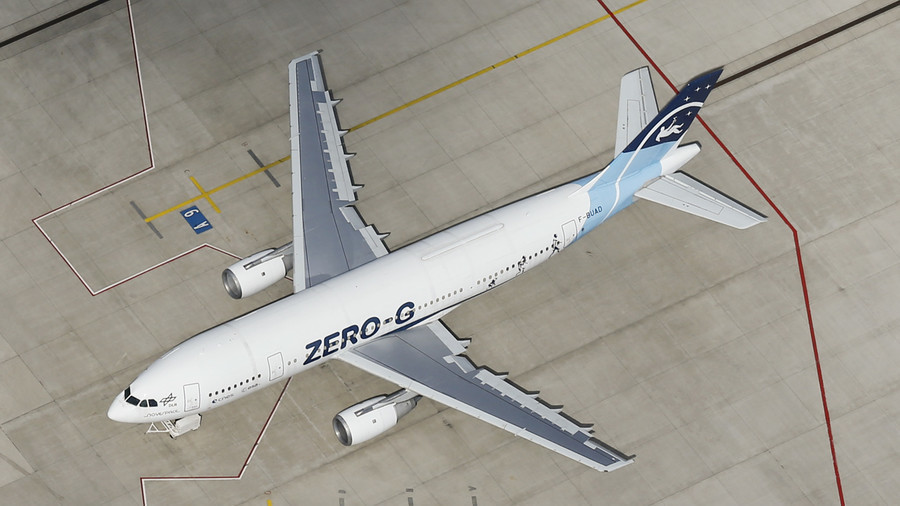 Twenty volunteers have been selected by a German nightclub for a pioneering party in zero gravity. Although the 90-minute bash on board the Airbus A310 won't cost them a penny, they may not enjoy it.
BigCityBeats, the German company behind the endeavor, recruited top-notch DJs, Dutch Armin van Buuren and American Steve Aoki, to entertain revelers during what is touted to be a mesmerizing but a rather challenging ride from Frankfurt and back.
The participants of the so-called zero gravity party will literally float in a weightless state for 25 minutes of the one and a half hour flight, which may prove to be more than enough. The redesigned A310 Airbus, also known as Zero G, allows passengers to experience 22 seconds of weightlessness as it moves in a parabolic trajectory. After a few seconds of zero gravity in a levelled position the plane nosedives before gaining altitude again. The maneuver is then repeated over a dozen times.
The rollercoaster ride, which is a part of regular cosmonaut and astronaut training, is known to take a heavy toll on a person's wellbeing mid-flight and may cause nausea, hence the unofficial nickname "vomit comet."
Despite the potentially less than pleasant side-effects, van Buuren is enthusiastic about the flight, that is scheduled to take off on February 7.
"You can make really unique dance moves, like twists in the air, that you wouldn't normally be able to do on a dance floor," he told AFP, adding that he sees the opportunity to perform in near-weightlessness, albeit simulated, as "an interesting science project."
BigCityBeats says it has embarked on the ambitious project not only because no one had thrown such a party before, but also for the sake of uniting people with completely different cultural backgrounds. In order to make the party truly a versatile one, the Frankfurt-based company made sure all continents are represented by the 20 partygoers that made the final cut. Those who wished to participate had to submit a short video explaining why they must be chosen. A total of 55 people, including the crew, the artists and two European Space Agency astronauts, will be on board the plane.
Bernd Breiter, CEO of BigCityBeats, has already set eyes on an even more daring goal – to potentially send a party to the moon. "Since we are doing a lot of things which are unique, everybody was asking me – when do you fly to the moon?" he said. With the zero-gravity experiment they "are coming a little bit closer."
Although the zero gravity may not feel great after a while, the result is definitely worth the trouble, as alt-rock band OK Go found out two years ago after it scored a hit with its "Upside Down & Inside Out" music video filmed in zero gravity. The group said it took them at least 20 rehearsal flights over a three week period before the video was eventually shot in one take.
Think your friends would be interested? Share this story!
You can share this story on social media: