Take that, Einstein! 'Ok Go' film mesmerizing zero gravity music video in Russia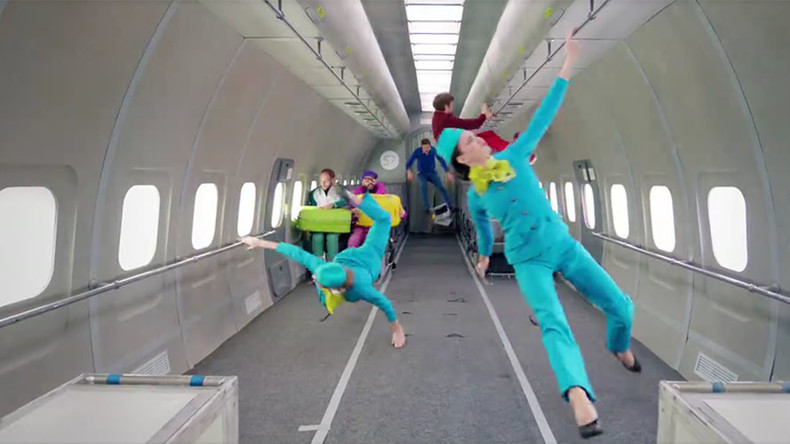 Quirky pop band 'Ok Go' has shot its latest music video in zero gravity, surpassing their own previous efforts at creating exciting visual material.
The foursome travelled to Russia to be literally turned upside down for the music video to their track Upside Down & Inside Out.
The group spent more than two hours in a state of weightlessness at the Yuri Gagarin Cosmonaut Training Center outside Moscow, creating this amazing, gravity-defying spectacle:
OK Go - Upside Down & Inside Out

Hello, Dear Ones. Please enjoy our new video for "Upside Down & Inside Out". A million thanks to S7 Airlines. #GravitysJustAHabit

Posted by OK Go on Thursday, February 11, 2016
The long awaited video was released today on Facebook and shared 15,000 times in an hour.
OK Go went to Russia to make their new video, and this was Tim's hotel room. He claims he switched beds every night. We...

Posted by OK Go on Wednesday, February 10, 2016
Fans have not been disappointed: "Another music video shot out of the park! I am not a fan of music videos but I adore yours. Always creative and amazing!" one Facebook user wrote.
"You guys are just phenomenal. Thank you for always pushing the boundaries of creativity. Stuff like this gives dreamers a reason to stop dreaming and put it into action because anything is possible." another wrote.
The latest Ok Go video demonstrates the band's unique, inventive style when it comes to filming...
...complete with mid air jumps and tumbles...
...and of course lots of color, kaleidoscopic color.
The US band are known for using new technology in interesting - and highly choreographed - ways. This time, though, they undeniably took their antics to a 'higher' level - admitting themselves that this was "the craziest thing they've ever done".
The video for Upside Down & Inside Out has been released on the same day scientists confirmed they have finally proven Einstein's 100-year-old theory about gravitational waves. (And in case you have no clue what gravitational waves are, here's our handy primer.)
The band's previous videos include the foursome on motorized scooter chairs accompanied by an array of dancers in a brilliantly co-ordinated spectacle in Japan. In another video they used optical illusions, and a chevy fitted with retractable pneumatic arms to play an array of instruments while driving in a desert outside LA.
The band are most renowned, however, for their "treadmill dance" in Here It Goes Again
You can share this story on social media: