Cars torched, schools shut: Bollywood movie on Muslim king & Hindu queen sparks violence in India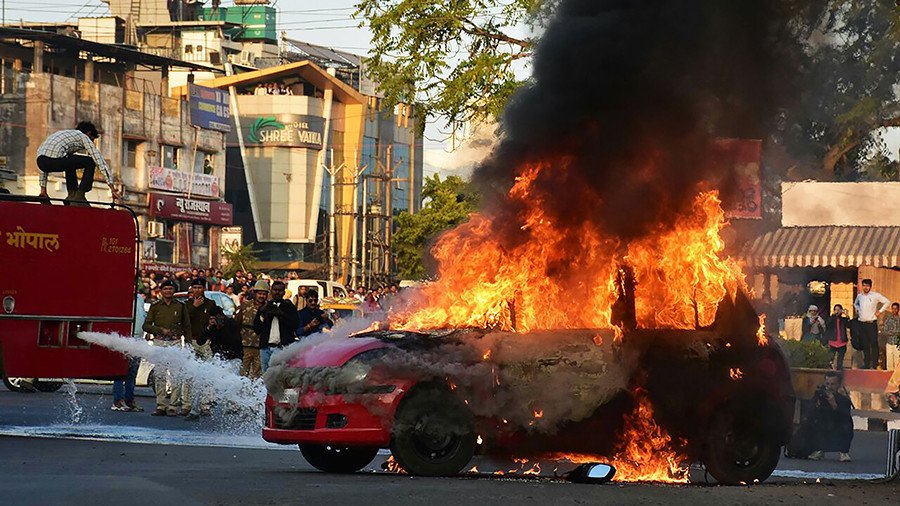 Violent riots exploded in multiple cities across India after a controversial Bollywood epic featuring a romance between a Muslim emperor and Hindu queen was approved for screening.
Angry mobs went on the rampage in several cities across India, protesting against the release of 'Padmavat', a Bollywood film which centers on a relationship between Padmavati, a 14th-century Hindu queen, and Muslim emperor Alauddin Khilji.
Scores of people have been arrested during the riots, local media adds.
Violent protests broke out in Mumbai, where rioters – reportedly led by Hinduist right-wing group Karni Sena – torched cars and motorbikes.
In Gurgaon, a city south of India's capital New Delhi, rioters set fire to a coach in the middle of a local highway. Meanwhile, a school bus in Haryana state was attacked on Wednesday, with protesters hurling stones at the vehicle.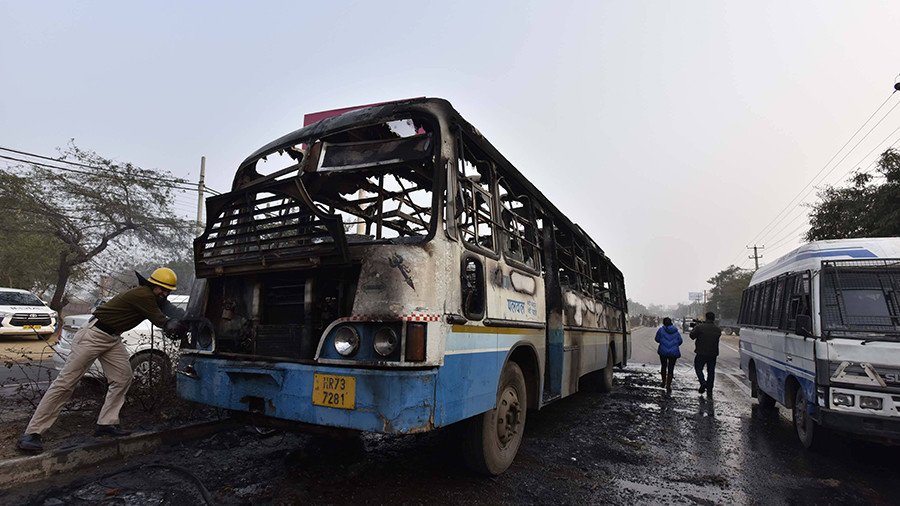 The incident forced local authorities to close other schools in the area for security reasons, NDTV reported.
Police confronted hundreds of protesters in the states of Uttar Pradesh and Gujarat, where the rioters stopped a passenger train and blocked the Delhi-Jaipur highway and other roads.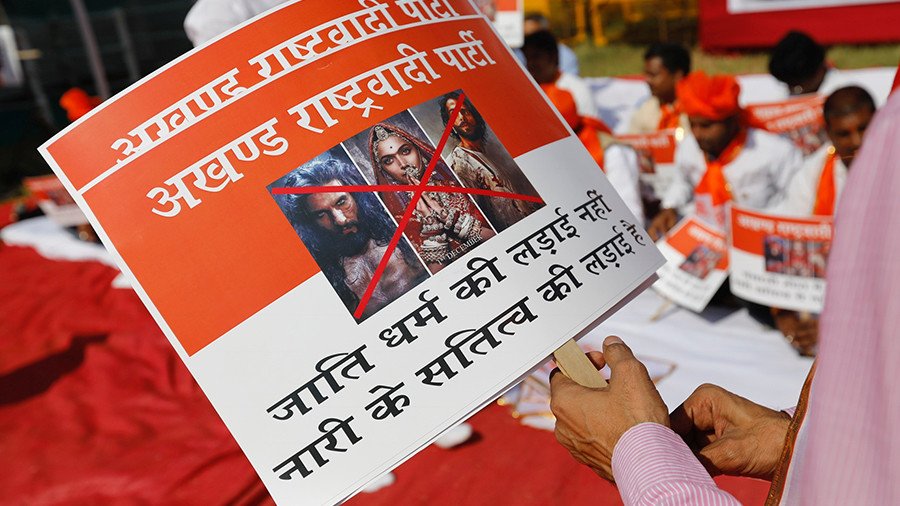 The epic, starring Bollywood actors Deepika Padukone and Ranveer Singh, shows emperor Alauddin attack a Hindu kingdom after he was amazed by the beauty and virtue of Padmavati.
But nationalist Indian groups alleged that the film includes intimate scenes between the Muslim ruler and the Hindu queen, though film director Sanjay Leela Bhansali repeatedly denied they exist.
READ MORE: Black comedy 'The Death of Stalin' pulled from Russian cinemas after backlash
The purported romance between the two protagonists, and the trailer which shows the Hindu queen dancing and bearing her midriff, have apparently been interpreted as showing Padmavati – who is revered as goddess by Rajputs, one of India's largest castes – in a poor light.
As outrage mounted, the Multiplex Association of India said it would not screen the film in Rajasthan, Gujarat, Madhya Pradesh and Goa, according to the Times of India.
Deepak Asher, president of the association, said it would ensure safety in troubled states. "Depending on the scenario, we will see if the atmosphere is safe, then we will play it [in these four states]. Things could change [but] at the moment we are looking at safety of people," he added.
However, even in the states where the film would still be shown, private security guards and additional police units would be deployed outside cinema halls. India's Supreme Court, in the meantime, had rejected a request by four states on Tuesday to ban the film on public safety grounds, saying the states themselves are responsible for maintaining law and order.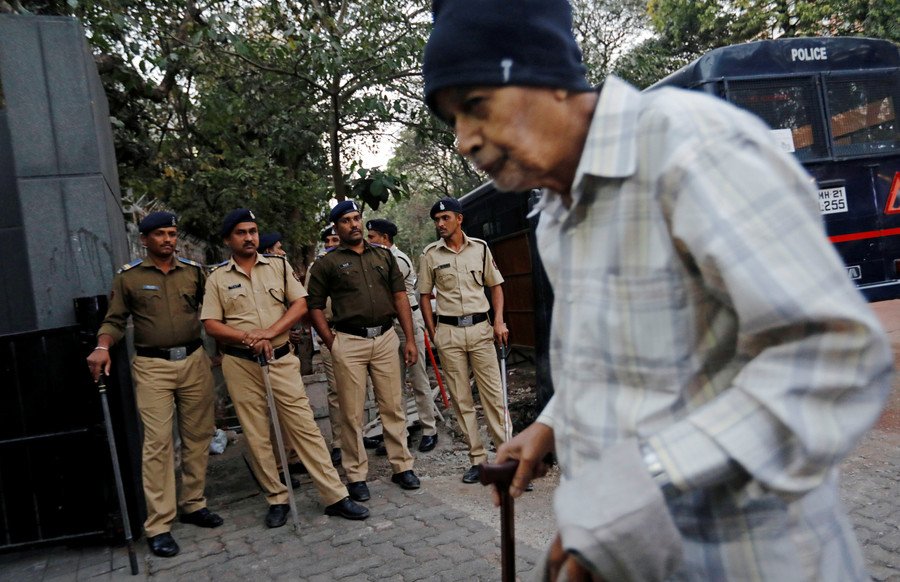 In January, Gujarat, Rajasthan, Madhya Pradesh and Haryana banned the release, but India's Supreme Court overturned the decision. Historians believe Padmavati did not actually exist, but legend has it that she committed 'sati' – the ancient practice of a widow throwing herself into her husband's funeral fire – preferring death to submitting to Muslim invaders.
Yet the film seems to hit two of India's sore spots, namely Hindu-Muslim sectarian tensions and perceived assaults on the Hinduist tradition.
Think your friends would be interested? Share this story!
You can share this story on social media: