Female journalists 'penned-in' behind male colleagues for Pence Western Wall visit (PHOTOS, VIDEO)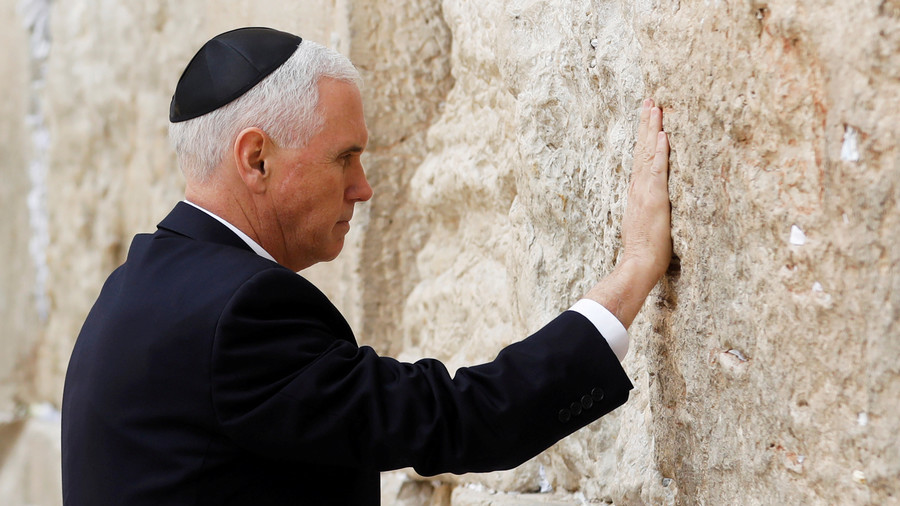 Female journalists were ordered to stand behind their male counterparts during US Vice President Mike Pence's visit to Jerusalem's Western Wall, triggering outrage and reigniting the debate about segregation at the holy site.
Pence visited the site, revered in the Jewish and Islamic faiths alike, during his two-day trip to Israel, the highest-profile visit by a US diplomat since President Donald Trump recognized Jerusalem as Israel's capital in December 2017.
Female reporters and photographers were previously separated from their male counterparts during visits by former US President Barack Obama and during President Trump's visit, although they were afforded an unobstructed view of the event. It's common practice for the sexes to be separated by the Ultra-Orthodox authority that runs the site.
The female reporters were given chairs to stand on after the snub gained traction online, particularly on Twitter, thanks to the hashtag '#PenceFence.'
"The Pence people ultimately took the cover off the top to improve the shot. And yelled at male reporters/photographers to stop blocking our view," NPR's Tamara Keith wrote in an email.
US Consulate officials eventually removed the covering which had obstructed the view in a token gesture. "Every effort was made to accommodate both female and male journalists while observing the rules in place at the Western Wall," Pence spokeswoman Alyssa Farrah said later.
"All my photos have a man's shoulder in them," said Tal Schneider, diplomatic and political correspondent for the Israeli newspaper Globes, as reports NPR. "I have Mike, with a shoulder and a bald spot ... of someone with a better view than me." Schneider said the covering was at the insistence of the authorities in charge of the site.
The Israeli government agreed to open a mixed sex space at the site in 2016 after decades of protests over the segregation. However, Prime Minister Benjamin Netanyahu bowed to pressure from ultra-Orthodox parties last summer and suspended the plan. In the early 20th century, however, men and women prayed alongside each other at the site.
"There will not be today, nor in the past or the future, mixing of men and women in the prayer plaza," The Western Wall Heritage Foundation, which administers the site, said in a statement as cited by NPR.
American freelance photojournalist Heidi Levine reportedly brought a ladder in anticipation of the obstruction, having covered Israel and the Palestinian territories for three decades.
Pence has come under fire for alleged sexism in the past, following claims he made that he does not dine alone with women apart from his wife and will only work late with male colleagues.
Think your friends would be interested? Share this story!
You can share this story on social media: