Toxic oil slick trebles in size as Chinese robots find gaping hole in sunken Iranian tanker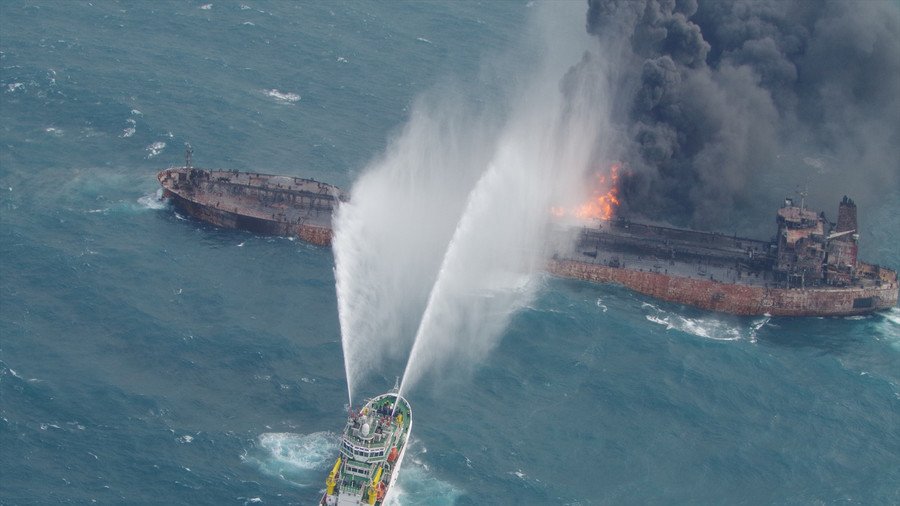 China's undersea robots found a gaping hole in the hull of the Iranian tanker that sunk carrying one million barrels of oil that is highly toxic to marine life.
In less than a week since the tanker finally sunk in a ball of flames off China's east coast, the colossal spill leaking from its hull has trebled in size.
READ MORE: Worse than Exxon Valdez? Fears rise 'all fuel escaped' from ill-fated Iranian oil tanker (VIDEO)
Three oil slicks with a total surface area of 332 km (128 square miles) were surveyed by authorities on Sunday, in comparison to the 101 km assessed last Wednesday, according to reports to SCMP who cite China's State Oceanic Administration.
The Panama-registered oil tanker 'Sanchi' collided with a Hong Kong cargo ship 'CF Crystal' on January 6, 160 nautical miles east of the mouth of the Yangtze River, Xinhua.
Undersea robots sent to inspect the wreckage over the weekend located the point of impact as a triangle-shaped hole stretching 35 metres, according to the Transport Ministry.
The 274 meter long tanker was hired by an Iranian company to deliver 136,000 tons (or roughly one million barrels) of condensate, an ultra-light, highly flammable form of crude oil, to South Korea. If just 20 percent of the ship's cargo was released into the sea, it would equal the infamous Exxon Valdez spill of 1989.
READ MORE: Body found on burning Iranian oil tanker off Chinese coast
The 225 meter freighter was carrying 64,000 tons of grain from the United States, en route to the Guangdong Province in China, when the collision occurred.
The tanker erupted into flames following the crash and finally sank two weeks after the initial collision.Three bodies belonging to the crew of 30 Iranians and two Bangladeshis onboard Sanchi have been found, the rest are presumed dead.
Think your friends would be interested? Share this story!
You can share this story on social media: