Body found on burning Iranian oil tanker off Chinese coast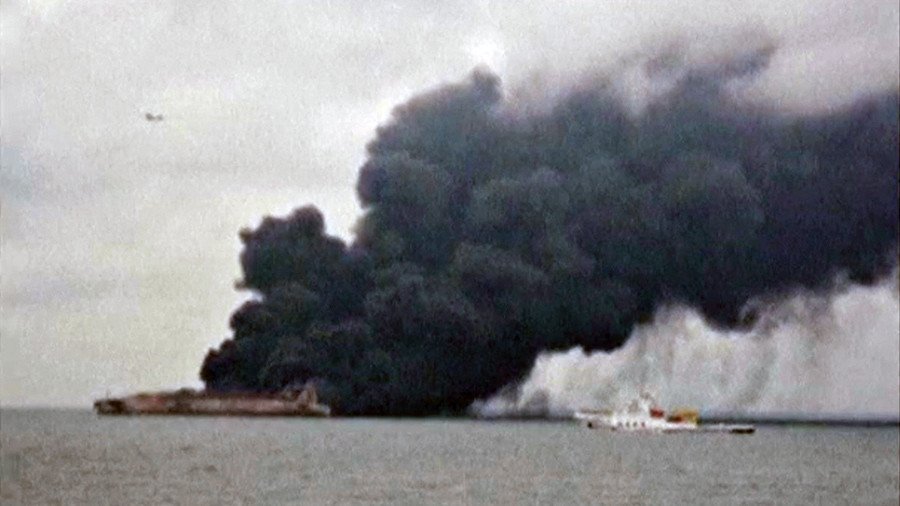 A body has been found on an Iranian oil tanker, which earlier collided with a cargo ship off the eastern coast of China and caught fire, officials said. Dozens of crew members from the tanker remain missing after the collision.
The body was sent to Shanghai for identification, according to Mohammad Rastad, head of Iran's Ports and Maritime Organization, as cited by ISNA news agency on Monday. The deceased was reportedly a crew member aboard the tanker, Reuters said.
READ MORE: 32 people missing after oil tanker & cargo ship collide off Chinese coast
Fire and rescue operations are continuing in the area but efforts are being hampered by the heavy blaze, Rastad said. Rescuers were forced to retreat due to the presence of toxic clouds, while the tanker is "in danger of exploding or sinking," China's Transportation Ministry said.There was no sign of survivors nearly 36 hours after the oil tanker caught fire, AFP reported, citing Chinese authorities.
There is "little possibility" that condensate would leave traces in the ocean, a spokesman for South Korean company Hanwha Total, which rented the tanker, told AP on condition of anonymity.
More than 30 people remain missing from the Panama-registered oil tanker 'Sanchi,' which collided with Hong Kong freighter 'CF Crystal' on Saturday evening. The accident caused a massive fire onboard the 'Sanchi,' forcing the tanker to tilt to the right. Though 'CF Crystal' was also damaged in the incident, its 21 crew were quickly rescued by East China Sea patrol boats.
"Most of the crew [on the tanker] were Iranians and, as no one can approach the ship from a 1km distance (because of the big fire that started after the collision), acquiring any information about the situation of the passengers and crew is difficult," Deputy Foreign Minister Hassan Qashqavi told Fars News Agency on Sunday.
The 'Sanchi' tanker, operated by Iran's Glory Shipping company, was on its way to deliver 136,000 tons of condensate - a type of ultra-light oil - to South Korea. The 'CF Crystal' was carrying 64,000 tons of grain from the United States, en route to the Guangdong Province in China when the incident occurred.
You can share this story on social media: