Kurds & Turks face off in violent brawl at Hannover Airport over Ankara's op in Syria (VIDEO)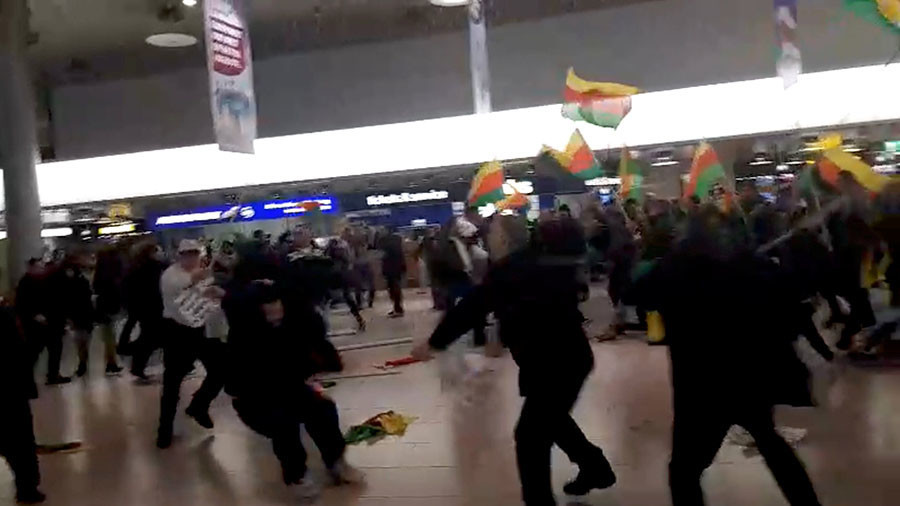 A mass brawl between Kurds and people reported to be Turks broke out at Hannover Airport on Monday. Fists flew as demonstrators protested Turkey's military action against Kurdish fighters in Syria.
According to preliminary police figures, the fight involved up to 180 Turks and Kurds, amid Ankara's operation to drive out YPG units from Afrin, Syria, local Hannoversche Allgemeine Zeitung reported.
Clashes broke out at Terminal B, with dramatic footage showing crowds of angry men exchanging punches and kicks, beating each other with flags, and shouts of "Fascist Erdogan."
Police used pepper spray to separate both sides and two people had to be treated for "slight injuries."
The operation against Kurdish forces in Afrin (a Kurdish-held area of Syria) began on Saturday. The Turkish Army calls the military strike "legitimate self-defense."
READ MORE: How US went from supporting Syrian Kurds, to backing Turkey against them – in just 9 days
On Monday, Turkish President Recep Tayyip Erdogan said that there would be no stepping back, as Turkish armed forces advanced into the Azaz district in Syria, east of Afrin.
Thousands of Kurds gathered in Afrin last week to protest what they see as Turkish aggression. "We want to tell Erdogan that his dream would vanish just as his dreams vanished when he tried to enter Kobani, so Afrin would be your graveyard," a man filmed by Ruptly news agency said.
You can share this story on social media: