Going in style: Lavish lavatory at Russian university leaves social media flushed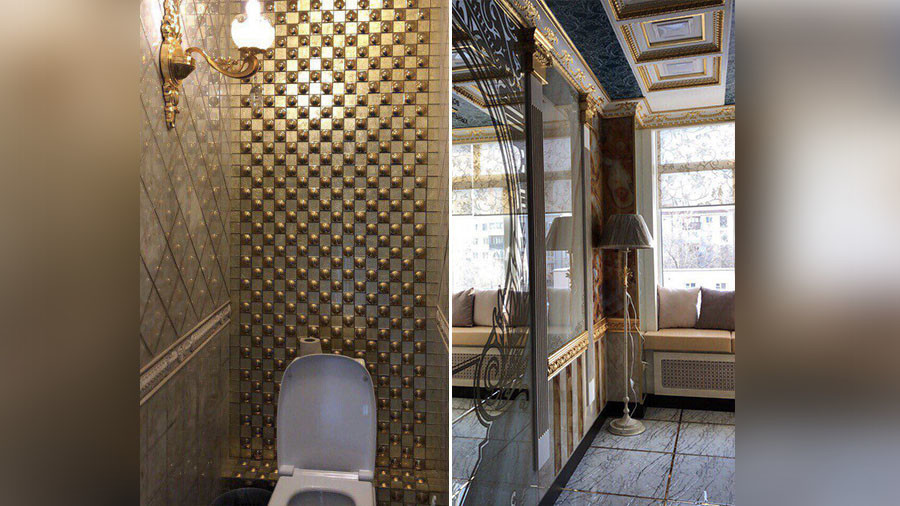 A baroque-styled gilded toilet for university management in Russia's Urals Region raised a few eyebrows after images were leaked on social media. The ornate WC appeared overly posh, compared to the ones students use.
Ornate carvings in gold-plated walls, shiny flooring and decorated ceiling, cushions and elegant lamps do not exclusively belong to the Versailles rooms, for they apparently can fit in with the university restroom in the Urals.
A Facebook user, nicknamed Lex Looter, shared the photographs of what he said was the administration's bathroom in the Urals State Economic University, wondering how it was possible "to s**t in such a museum."
Commentators picked up the mood, ridiculing the university officials for their bad, or is grand taste, pointing to plain white lavatories or cheap toilet paper, which obviously don't fit in with the bathroom's splendor.
Some spotted the quote attributed to Italian actress Sophia Loren running across the mirror. Probably placed to instill some self-confidence, the writing reads: "A woman, assured in her beauty, can eventually convince others of it."
The extravagant design for the management restroom is in stark contrast with the austere toilets for students and the rest of the university staff.
However, the university press office washed its hands of the matter, claiming it didn't spend "a ruble" on the makeover. The school said it was a gift from one of the graduates, and that you "don't look a gift horse in the mouth." The generous 2003 graduate, Denis Veshkurtsev, told a local news site he decided to "help his alma mater" in gratitude, adding, it was "only the beginning," with other lavatories and changing rooms coming next.
You can share this story on social media: