'We've had enough!' Protesters demand new agricultural policies in Germany (VIDEO)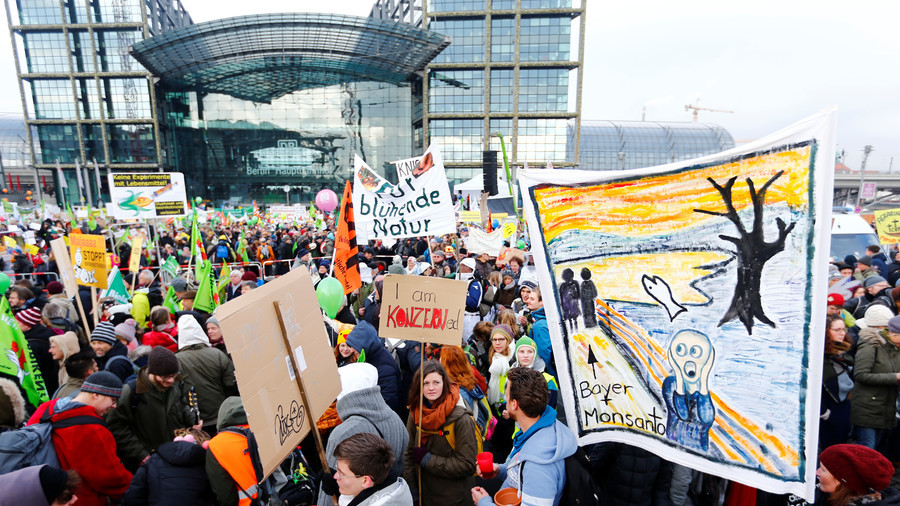 Demonstrators armed with pots and spoons have taken to the streets of Berlin to demand government changes which would benefit small farmers. It coincides with Berlin's hosting of the world's largest agricultural fair.
Footage posted online by Ruptly showed the protesters marching through the streets carrying banners, some of which featured a photo of a honeybee. "New agricultural policy," the signs read.
The protest's slogan is "Wir haben es satt," which translates to "We have had enough." Numerous tractors also rode through the streets as part of the demonstration.
The demonstrators are rallying for legislation to induce sustainable fair trade and improve the nutritional quality of products, along with benefiting independent farmers. They say the German government and agricultural industry have increased exports by lowering prices and animal protection standards, claiming the moves have negatively impacted German farmers.
The protesters say Germany needs to instead concentrate on fair trade, stop promoting big farming companies, and focus on improving quality. They also say that supermarkets need to use labeling which shows the origin of meat and milk products.
Similar protests take place every year during "Green Week," when Berlin hosts the largest agricultural fair in the world.
Like this story? Share it with a friend!
You can share this story on social media: