People & roofs blown away: At least 6 killed as storm hits northern Europe (PHOTOS, VIDEO)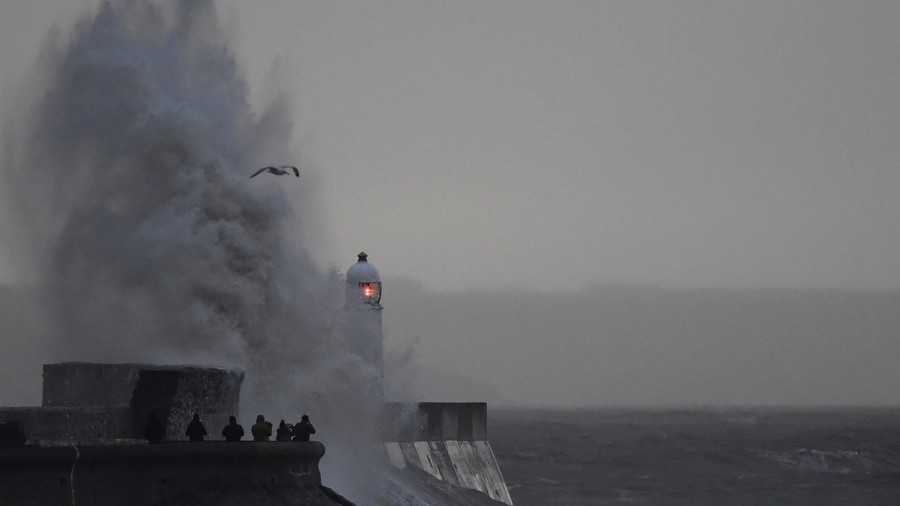 Extreme winds have lashed northern Europe, killing three people in The Netherlands and bringing transport chaos to parts of Germany.
Stormy weather conditions have been sweeping across Germany, the Netherlands, France, Belgium and parts of the UK.
The Netherlands
At least three people have been killed by storm debris in The Netherlands. A 62-year-old man was killed in the city of Enschede when he was struck by a heavy tree branch, reported NOS news.
READ MORE: Pedestrians get blown away in shocking footage as 140kph gusts batter Netherlands (VIDEO)
Meanwhile, roofing has been filmed flying from buildings, while other structural damage has been documented through social media.
At Amsterdam's Schiphol Airport, all flights were suspended for a number of hours due to "severe weather conditions".
Belgium
In Belgium, one person has reportedly lost their life, as a code orange weather warning remains in place throughout much of the country.
Germany
Storm Friederike has wreaked havoc in Germany with transport in the North Rhine-Westphalia region in particular severely affected. Extreme winds reached up to 130kph (81mph) in central Germany, with poor weather conditions hitting Dusseldorf, Cologne and Dortmund, according to DWD meteorological agency.
Two people have also been killed in the poor weather, reported Reuters.
Images across Instagram and Twitter show rain and winds battering parts of Dusseldorf, including the international airport, where passenger planes have been filmed trying to land in the difficult conditions.
On Thursday, railway company Deutsche Bahn announced that its trains service will shut down until further notice in the area.
UK
According to the Met Office, parts of the UK are currently experiencing the impact of Storm David. The squall has seen the strongest gales in Norfolk and south west Wales.
A yellow weather warning has been issued, explaining that icy conditions are also expected.
Portugal
The stormy weather has even hit areas of Portugal, with popular surfing spot Nazare displaying some incredible coastal swells.
Think your friends would be interested? Share this story!
You can share this story on social media: