Hurricane Ophelia threatens Ireland & UK with 90mph winds & flooding (VIDEOS)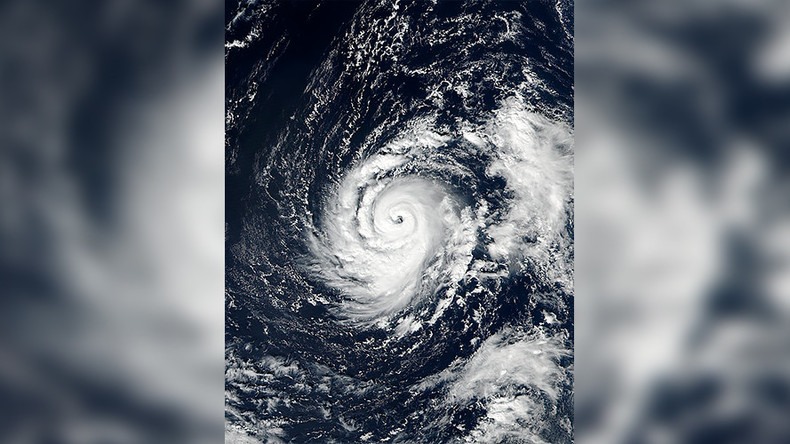 A particularly violent hurricane season is finally coming to a close in the Atlantic, but not before yielding yet another surprise, as Ophelia is set to batter Ireland and the UK over the next two days.
Hurricane Ophelia formed in a persistent low-pressure system in the middle of the ocean, as opposed to developing in the tropics like the rest of this year's hurricanes, and will lash northwestern Europe with winds of up to 90mph (144kph). Power outages, felled trees, and flooding are expected across Ireland and the United Kingdom.
"Flying debris is likely, such as tiles blown from roofs, as well as large waves around coastal districts with beach material being thrown onto coastal roads, sea fronts and properties. This leads to the potential for injuries and danger to life," according to the British meteorological office.
READ MORE: Tropical triple threat: Irma followed by Hurricanes Katia & Jose
"We've had a very active hurricane season, but the remains of Hurricanes Maria and José passed us by harmlessly, as is usually the case," a spokesperson for Ireland's official weather service, Met Eireann, said, according to the Independent.
"But Ophelia is unusual because hurricanes would usually come from America or the Caribbean, whereas this one is coming from the southwest, below the Azores," they added. "It's worth noting that Hurricane Debbie also came from this unusual direction and source region."
The Atlantic is typically too cold for hurricanes to develop, let alone survive long enough to make landfall in western Europe. It will also be the Atlantic's tenth consecutive hurricane in 2017, Popular Science reports.
For context, there haven't been this many Atlantic hurricanes since the 19th century.
While not unprecedented (Hurricane Vince was the first recorded tropical hurricane to make landfall on the Iberian Peninsula in 2005), Ophelia formed where hurricanes usually disappear; in the North Atlantic. These types of storms usually require warm water to survive, and once water temperatures drop, they dissipate.
By the time Ophelia makes landfall in western Europe, it will have lost the majority of its tropical characteristics. This can, however, create an even more expansive area of effect, with winds stretching out further than they would if the storm didn't reach the 'post-tropical' phase.
"Given the lead time and the inherent uncertainties that come with the modelling of a tropical system it won't be possible to quantify the exact timing, nor the strength or intensity of the wind and rain," Ireland's Met Éireann wrote in a statement. Met Éireann has issued a red weather alert, its highest level warning, across the west of Ireland.
The temperature in the upper atmosphere is bitterly cold, creating convection currents in the air stream between the upper and lower atmosphere which has allowed Ophelia to survive for so long, while also creating intense thunderstorms in the hurricane's eye.
You can share this story on social media: