Lavrov reviews Russia's 2017 foreign policy in annual press Q&A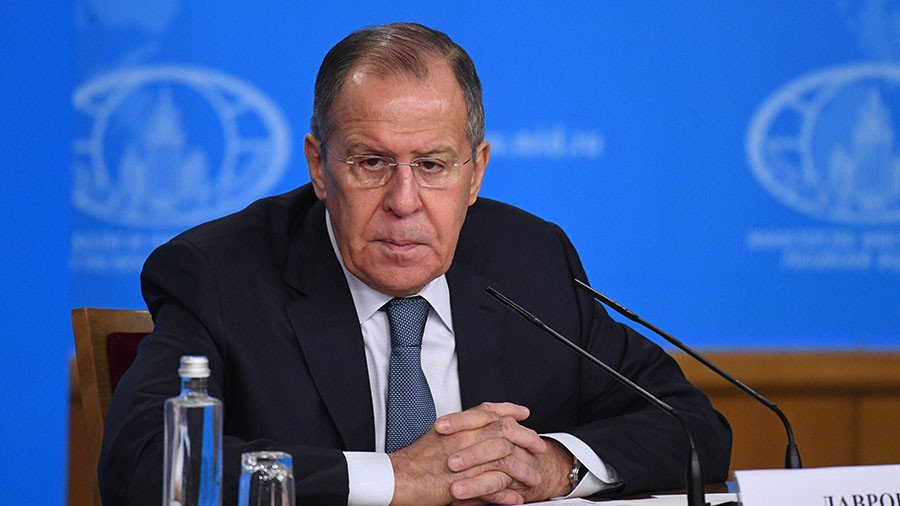 Russian Foreign Minister Sergey Lavrov is meeting the press in Moscow to review the results of Russia's 2017 foreign policy. The event begins at 10am Moscow time (07:00 GMT) – follow RT's live updates below.
15 January 2018

16:20 GMT

Julian Assange tweeted a video of RT's Ilya Petrenko asking Sergey Lavrov about his stance on the WikiLeaks co-founder's six-year exile, and if Russia would give him citizenship. While the question is "purely hypothetical," Lavrov responded that Russia focuses on the humanitarian side of Assange's fate and urges all the sides to "show goodwill and fix the problem at last."

09:29 GMT

Just under two-and-a-half hours after he started, Lavrov brings the session to a close.

Plenty to reflect on from the foreign minister's comments.

09:25 GMT

A closing question on ties with Estonia.

Lavrov says a treaty between the two that is still waiting to be signed will be ratified, but for that to happen Estonia should stop being one of the main promoters of Russophobia in NATO.

09:17 GMT

A question from Japan on a potential Lavrov visit and whether this could take place before the March 2018 presidential election in Russia.

Also - US missile defenses being installed in Japan - what is Russia's view?

"Good things first," Lavrov says. "We are looking forward to Prime Minister Shinzo Abe's visit to Russia [in 2018]."

Lavrov says the two sides are cooperating at many levels, including diplomatic, military, economic and cultural.

Lavrov says, however: "The missile defense issue is a dark cloud in our relations."

"They said the US Aegis system in Japan will be different from that in South Korea... but we don't have this information... We heard supposedly Japan will control it, not the US, but we have our doubts about this - we would like more substantial assurances.

"I doubt the US will make an exception and allow Japan to control the system.

"We don't want US missile systems to destabilize international relations... They tell us 'don't worry, the systems won't be used against Russia', but we have our concerns."

09:15 GMT

Lavrov is asked by a journalist from the Dozhd TV station about Russian casualties in Ukraine and Russian citizens missing there - can Lavrov talk about private Russian security companies operating abroad?

Lavrov says Russia always responds to reports of missing people abroad, and that the military often investigates these case. If there is any news, the press will be informed, the foreign minister says.

09:13 GMT

On the naming row between Greece and Macedonia, Lavrov says Russia would abide by any decision made in the Macedonian constitution, should that happen.

09:10 GMT

On US gas activities in Greece, Lavrov says these steps show that Washington is afraid of Russia and cannot compete, so is forcing European states into spending more on US gas.

Lavrov cites Russian gas projects - Turkish Stream and North Stream - as well as the South Stream project - which show Russia can supply Europe with gas. Russia needs iron-clad EU guarantees that the operation of the North Stream project will be able to proceed, Lavrov says, however.

09:07 GMT

Moving onto the final questions, more than two hours after the session began.

Lavrov is asked about US activities in Greece - especially gas export facilities. This is seen as an attempt by the US to block Russia - could this damage Greece-Russia ties?

And what is Russia's position on the row between Greece and Macedonia over the latter's official name?

09:05 GMT

A Pakistani journalist asks about ties between the two nations.

Lavrov says Russia wants to work with Pakistan to neutralize the terrorist threat, and the agreement to supply military equipment is evidence of that.

09:01 GMT

Back to the Middle East. Lavrov says that Russia has already commented on the destabilizing effect of the Trump decision to recognize Jerusalem as Israel's capital.

Russia has sympathy for the Palestinians, Lavrov says, adding that Palestinians have been making unilateral attempts to push the peace process forward, but these have not been reciprocated.

"We cannot allow the situation to drift," he says. "I hope we are able to find a way out."