'Envy of the world': Macron urges UNESCO to protect French baguette as cultural heritage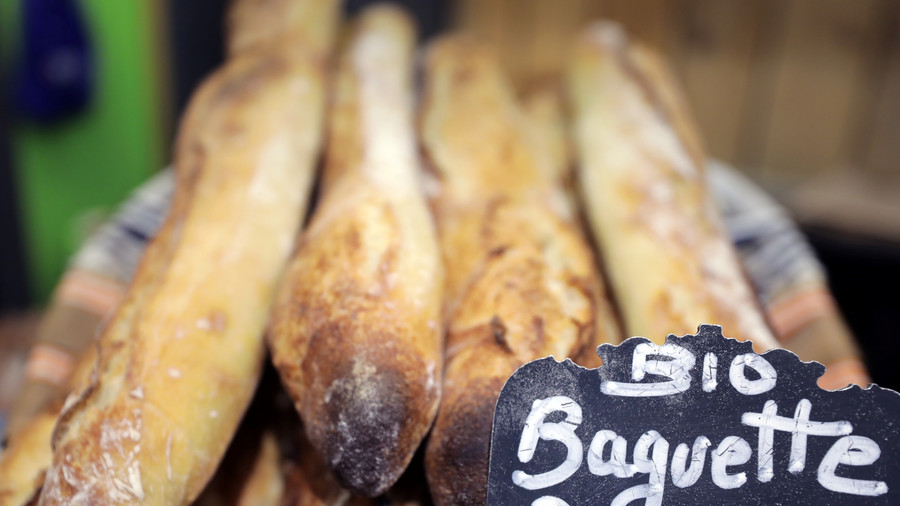 President Emmanuel Macron has backed calls from bakers to put the traditional French bread – the baguette – on the list of intangible cultural treasures protected by UNESCO, calling the oblong loaf an "envy of the world."
"The baguette is envied around the world. We must preserve its excellence and our expertise, and it is for this reason that it should be heritage-listed," the French leader told Europe Radio 1 following a meeting with French master bakers in Paris on Friday.
Ahead of the meeting at the Élysée Palace, the head of the French baking and pastry union, Dominique Anract, compared the art of baguette-making to the Eiffel Tower, arguing both are among the most recognizable symbols of France. But while the Eiffel Tower enjoys international protection, the humble French bread is defenseless in the face of supermarket chains' onslaught.
"When I see the growing dominance of French supermarkets and convenience stores in the sale of bread, I say to myself that we must act," Antract told the website Atabula, adding that he could not help feeling "indignant" about the quality of what is sold as baguettes in the malls and corner shops.
The French government's efforts to preserve the nation's culinary attraction can be traced back to 1993, when the notion of what makes a traditional baguette was enshrined in the so-called "bread decree." According to the decree, the genuine baguette must be made out of four ingredients: flour, water, salt and yeast – and contain no additives. It is also forbidden for the bread to be frozen before it is put on the shelves.
The decree has not lost its importance over the years. In 2015, Google celebrated its 22nd anniversary with a special doodle.
However, it was the art of Neapolitan pizza-making, or 'Pizzaiuolo,' earning its spot on UNESCO's Intangible Cultural Heritage list last year that pushed French bakers to request the same recognition for the French culinary staple.
"I know our bakers, they saw the Neapolitans succeed in getting their pizza classified under UNESCO world heritage and they said 'Why not the baguette?' and they're right!" Macron said. The French leader noted that eating the world-famous bread remains "a morning, midday and evening tradition for the French."
If the French government's quest proves successful, then baguette-making is poised to join the list of some 470 activities protected by the UNESCO, among them Kyrgyzstan's game of dead goat polo, Dutch windmills, Belgium's beer culture and Germany's organ craftsmanship.
You can share this story on social media: