Space rocket booster drops from sky & explodes near Chinese town (VIDEOS)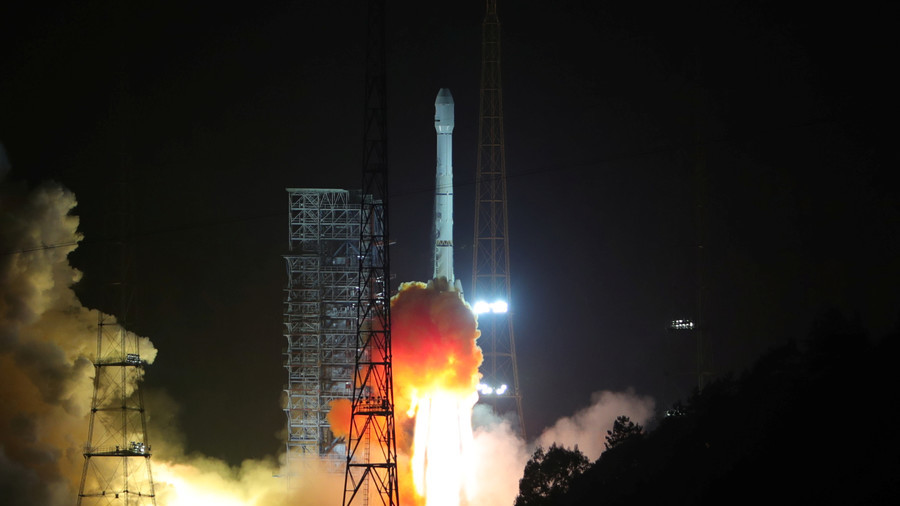 A rocket booster fell from the sky and exploded near a small town in southwest China following the launch of the country's Long March 3B rocket.
The strap-on booster was one of four making up the first stage of the rocket that launched two satellites into orbit on Friday.
People living in the town of Xiangdu, located near China's Guangxi region, filmed the booster as it fell from the sky, narrowly missed buildings and crashed into a wooded area before erupting into flames.
READ MORE: Lost in space? Secret SpaceX Zuma satellite a total loss – reports
The town of Xiangdu in Tiandeng Country, Guangxi Zhuang Autonomous Region, is around 700 kilometers from the launch site and within the designated "drop zones" for falling debris, according to the GBTimes.
A video originally shared on the Chinese social media platform Weibo shows the liquid fuel booster as it comes crashing down as witnesses scream in horror.
While the debris did not strike any people or buildings, other video footage show curious locals at the crash site, apparently unaware of the highly toxic hypergolic propellant emitting from the piece of equipment.
Here's the end of the close-up video of the booster that fell from the Long March 3B today. There's bang then everyone runs away. Gets them away from the hydrazine for a while at least... pic.twitter.com/CbYKkDsvsO

— Andrew Jones (@AJ_FI) January 12, 2018
Sharing footage taken at the crash site, Andrew Jones, a journalist reporting on China's space program, said sadly "this kind of rocket debris incident in China is all too common."

You can share this story on social media: