Defiant Indian father carves 8km through mountains to get his 3 sons to school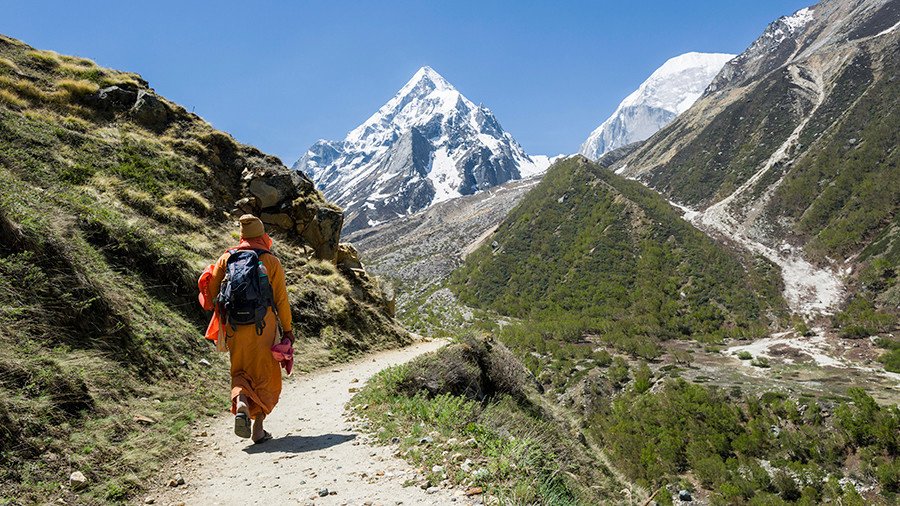 An Indian father, who didn't want to abandon his isolated village like the rest of the locals, cut through 8km of hillocks by hand instead. The road enabled his three sons to safely travel to school in a nearby town.
Jalandhar Nayak's family is the last one remaining in the village of Gumsahi in Odisha state, eastern India. All of the other residents left because it was isolated from the regional road network and lacked some basic facilities. But Nayak refused to leave. Instead, he used a hammer, a digging bar and a chisel; and worked eight hours a day for two years to cut through 8km of hillocks separating the village from the surrounding area.
His original plan was to spend three more years on a project spanning 15km to connect the village to a road that leads to the nearby town of Phulbani. His children attend school there, but the narrow path they had to use was quite perilous, he told Kalinga TV.
"My children find it difficult to walk on the narrow and stony path while going to their school. Often I saw them stumbling against the stones and I decided to carve a road through the mountain so that they can walk freely," he said.
The epic effort remained unknown to the general public in India until January 9, according to the Hindustan Times. A report about the 45-year old's story, which was published in a local newspaper, caught the eye of a government fund dedicated to rural development, which decided to reward the dedicated father for his labor. "Nayak's effort and determination to cut mountains to build a road left me spellbound. He will be paid… for all the days he has worked," the fund manager, Brundha D, told reporters.
Apart from financial support, Nayak will also get assistance from laborers to complete the construction work, the report added. "The district collector has assured me [of help] to complete the construction of the road to my village," said Nayak, who sells vegetables to earn a living.
Indian media compared Nayak to another 'mountain man,' Dashrath Manjhi, who spent 22 years carving a path through a hillock to shorten the journey between his native village and a nearby town of Gaya. Manjhi decided to devote his life to the cause after his wife fell and eventually died while crossing the hills to get to the town. The road between the village and Gaya shortened the commute from 55km to 15km, thanks to his efforts.
You can share this story on social media: