Video apparently showing US commando firing at civilian truck in Afghanistan sparks military probe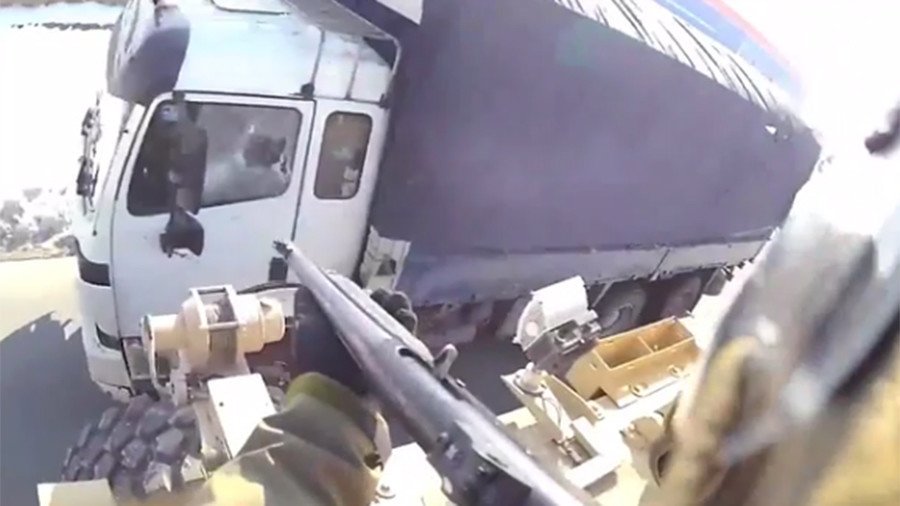 A YouTube clip purportedly showing a US commando in Afghanistan firing a shotgun at the window of a civilian truck with the driver inside has caused concern and dismay at the top level of the US military.
The original video, titled 'Happy Few Ordnance Symphony,' was a montage of combat footage from 2017, and featured the clip of a soldier firing at the cab window of a civilian truck, according to a Politico report. It was not authorized by the US Central Command and was quickly removed from the video-sharing site.
The controversial part lasts just a few seconds and shows an armored military vehicle, possibly an M-ATV equipped for special operations troops, passing a slow-moving civilian vehicle known in Afghanistan as a "jingle truck."
Footage apparently recorded on a helmet camera shows a military-style shotgun being pointed at the truck cabin, and the window on the driver's side being shattered as it if had been shot. The video is set to music and offers no audial cues for the clip.
Politico cites special operations veterans as saying that it was difficult to judge what was shown in the video without knowing its context, but one said it was possibly "an operator not doing the right thing and firing a non-lethal round just to be a dick."
Pentagon officials would not directly comment on the incident shown in the footage, but Head of Central Command Gen. Joseph Votel expressed dismay about the video.
"I have reviewed the video and I am disappointed and also concerned that the American people, our coalition partners, the Afghan government, and the Afghan people will believe that American service members are callous and indifferent to the horrors of war or the suffering of innocent people trapped in conflict," he said in a statement on Wednesday.
"I can assure you that this video does not represent the professionalism or humanity of the men and women of US Central Command. We reject the unprofessional and callous message this video conveys."
US Central Command told Politico that a probe had been launched, promising to take "appropriate actions as a result of this investigation."
Other clips that featured in the now-deleted montage reportedly showed troops wearing uniforms of US special operations forces, including the Green Berets, SEALs, Rangers and Marine Raiders, firing various weapons and calling in air or artillery strikes. Similar amateur videos are often made by US troops to share among the military community.
Politico says the footage may have been shot in Nangarhar province, where US commandos were involved in fighting in 2017 against militant groups that pledge allegiance to the terrorist group Islamic State (IS, formerly ISIS).
You can share this story on social media: