Shellshock: Sea turtle population on Great Barrier Reef 'turning female'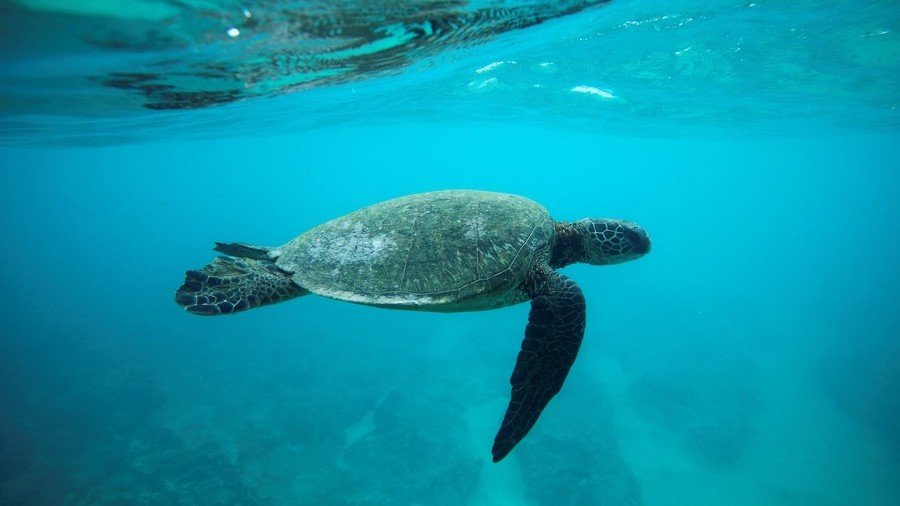 Green sea turtles native to the Great Barrier Reef are under threat from rising temperatures, which are making the majority of hatchlings female, according to a team of biologists.
Scientists researching the impact of climate change on one of the world's largest sea turtle populations have found that turtle eggs, laid on warmer beaches along the north-east coast of Australia, can produce animals almost entirely of the female gender.
Scientists say it's down to rising temperatures prolonging the incubation process which in turn leads to more female offspring.
READ MORE: 1st bee species officially placed on endangered species list
The researchers, including scientists from the US National Oceanic and Atmospheric Administration and the Queensland Department of Environment, are warning the trend could have a dire impact on the future of the species.
The study, published in the Current Biology journal, examined populations on Raine Island and the Howick Island group in the Northern Great Barrier Reef. It also looked at nesting sites along the Southern Great Barrier Reef outside Brisbane.
The results, which were determined through non-fatal genetic testing and endocrinology, show that a 99.1 percent female bias exists in the hotter northern region. Around 65-69 percent of turtles coming from beaches in the Southern Great Barrier were discovered to be female.
"Combining our results with temperature data show that the northern GBR [Great Barrier Reef] green turtle rookeries have been producing primarily females for more than two decades and that the complete feminization of this population is possible in the near future," the study states.
READ MORE: Excessive air pollution may be cause for a fifth of dementia cases - study
The study added: "Extreme incubation temperatures not only produce female-only hatchlings but also cause high mortality of developing clutches. With warming global temperatures and most sea turtle populations naturally producing offspring above the pivotal temperature, it is clear that climate change poses a serious threat to the persistence of these populations."
Dermot O'Gorman, CEO of the World Wildlife Fund Australia, which helped facilitate the field study, said the Great Barrier Reef is "at the frontline of climate change."
"Finding that there are next to no males among young northern green turtles should ring alarm bells, but all is not lost for this important population," he said.
"Scientists and wildlife managers now know what they are facing and can come up with practical ways to help the turtles."
You can share this story on social media: