The cheek! Commuters bare bottoms for 'No Pants Subway Ride' (VIDEO, PHOTOS)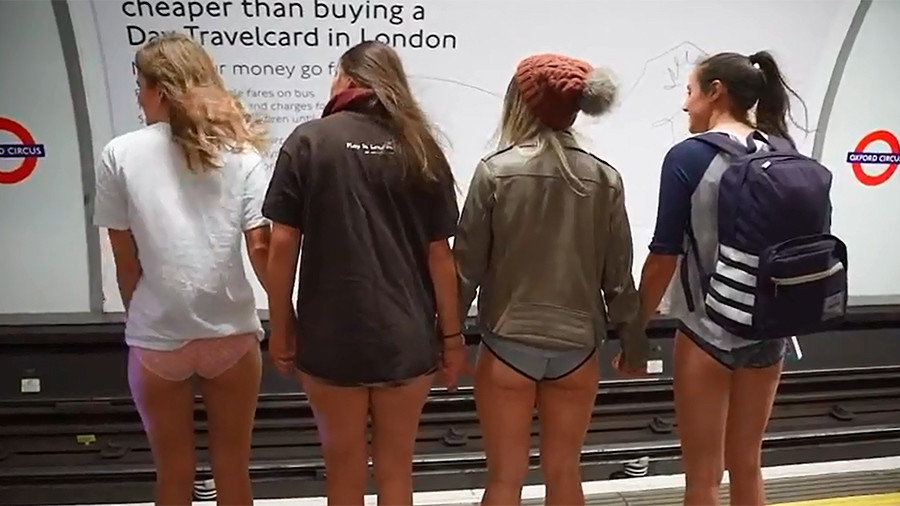 Hundreds of people braved wintery conditions on Sunday to celebrate the 'No Pants Subway Ride,' a yearly event which sees commuters forgo trousers on public transport.
The comical event, which first began in the US, saw scores of people jettison trousers, skirts and shorts in favor of simply wearing underpants on their lower half during train rides in the cities of Amsterdam, Berlin, Prague, New York and London and more.
The Stiff Upper Lipp Society organized the London outing, during which more than 300 people gathered on a cold day in Westminster before hopping on the underground.
Footage from the event shows scantily clad men and women in London's Victoria station and sitting nonchalantly in train carriages.
The bizarre tradition was created by the New York-based prank collective Improv Everywhere in 2002. Back then just seven took part in the trouserless train activity, which the group says involves random people sitting together in their underwear on commuter trains.
"The idea behind the No Pants Subway Ride is simple: Random passengers board a subway car at separate stops in the middle of winter without pants," an Improv Everywhere statement reads.
"The participants behave as if they do not know each other, and they all wear winter coats, hats, scarves, and gloves. The only unusual thing is their lack of pants."
You can share this story on social media: