Dormant Kadovar volcano erupts for 1st time in known history, prompting evacuations (PHOTOS, VIDEO)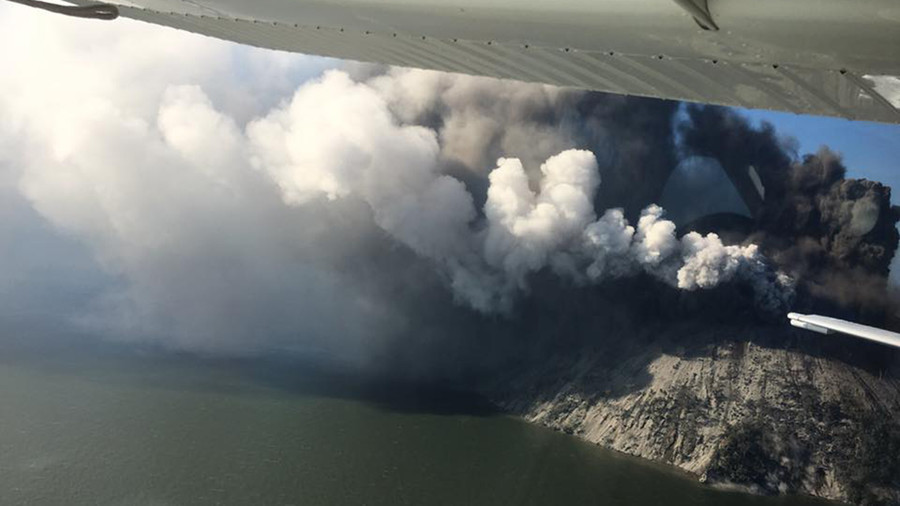 A dormant volcano on Kadovar Island, northeast of Papua New Guinea, has erupted for the first time in known history, with a large plume of ash rising 2.1km above sea level, forcing the evacuation of over 500 residents.
The 365-meter (1,197-ft) volcano started erupting on Friday, the Darwin Volcanic Ash Advisory Center said. The eruption could become explosive, domestic online media Loop PNG quoted the Rabaul Volcanological Observatory (RVO) as saying.
"Due to the steepness of the island, landslides are possible, and together with the explosive nature of the magma, tsunamis may be generated. Due to the size of the island, any activity will impact the local population," it said on Sunday.
Footage of the eruption, taken from an airplane, showed gigantic grey and white plumes of ash billowing in the sky from the crater.
"It's just a continuous emission of volcanic ash at the moment," Cheyne O'Brien, a forecaster at the Darwin Volcanic Ash Advisory Center, told Reuters on Sunday.
The plume of ash rising from the volcano does not yet pose a hazard to aviation, but a change in wind direction could hit operations at Papua New Guinea's Wewak Airport, O'Brien said.
The population of the island is estimated at between 500 and 600 people. According to US-based charity Samaritan Aviation, which conducts emergency life flights to remote areas of PNG, all residents of the island have been safely evacuated.
"The report we have is that all of the residents of the island have been evacuated and that there has not been any loss of life," it said on Facebook. "We do not have any details yet as to where all of the families have been evacuated to but hope to have further information in the near future. Your continued prayers for those displaced are appreciated," Samaritan Aviation added.
According to Chris Firth, a volcanologist at Macquarie University, there are no confirmed records of a previous eruption of Kadovar.
"It's hard to predict what might happen, as there's nothing to compare it to," Firth told Reuters. Scientists speculate, however, that it could have been one of the two "burning islands" mentioned by 17th-century English explorer William Dampier.
You can share this story on social media: