Volcano spews plume of ash into the sky near Mexico City (PHOTOS, VIDEO)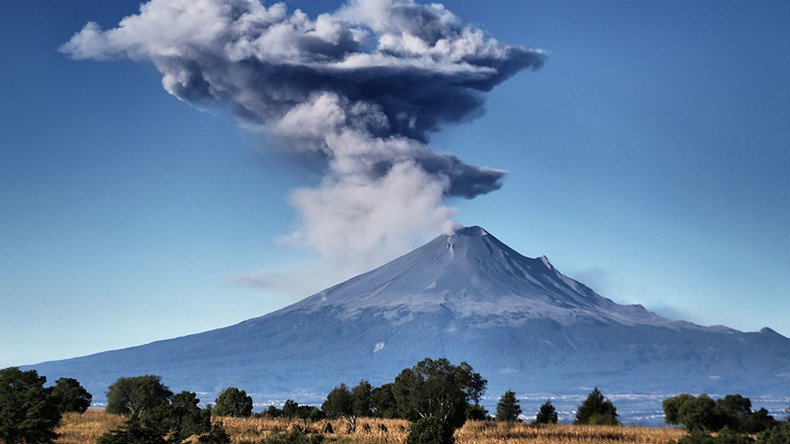 Footage of the moment the Popocatepetl volcano erupts, spewing a huge plume of ash into the air near Mexico City, has been posted online.
Popocatepetl, meaning 'smoking mountain' in Aztec, erupted three times in the space of 24 hours across Thursday and Friday. The ash, described as "moderate" and "light" by civil protection authorities, fell over the nearby towns of Tétela del Volcán and Ocuituco, according to El Sol de Cuautla.
READ MORE: Ancient lava field walls mystify archaeologists in Saudi Arabia (VIDEO)
The stratovolcano, which annexes both Popocatepetl and the dormant volcano Iztaccihuatl, has been emitting ash since the beginning of this month, with explosions detected at various times over the last 10 days, according to the Global Volcanism Program.
Puebla Governor Antonio Gali Fayad reported that government authorities were permanently monitoring the volcano which, in the event of more intense eruption, could threaten the 26 million inhabitants of Mexico City just 35 miles southeast. The region's civil protection agency has now set the level of danger at 'Yellow Phase 2', meaning more low to intermediate level activity is expected.
The National Center for Disaster Prevention (CENAPRED) reported more than 380 low intensity exhalations along with "emissions of steam and gas and moderate amounts of ash."
"CENAPRED emphasizes that people SHOULD NOT go near the volcano, especially near the crater, due to the hazard caused by ballistic fragments and in case of heavy rains leave the bottoms of ravines by the danger of landslides and debris flows," a statement read.
National Coordinator for the Civil Protection Authority, Luis Felipe Puente, said the plume of ash reached three kilometers in height and was blowing in a southwesterly direction. People living in ashfall areas were encouraged to stay indoors and wear face masks to avoid breathing in potentially hazardous volcanic material.
You can share this story on social media: