Ankara tries to bury the hatchet with Berlin as Turkish-US ties disintegrate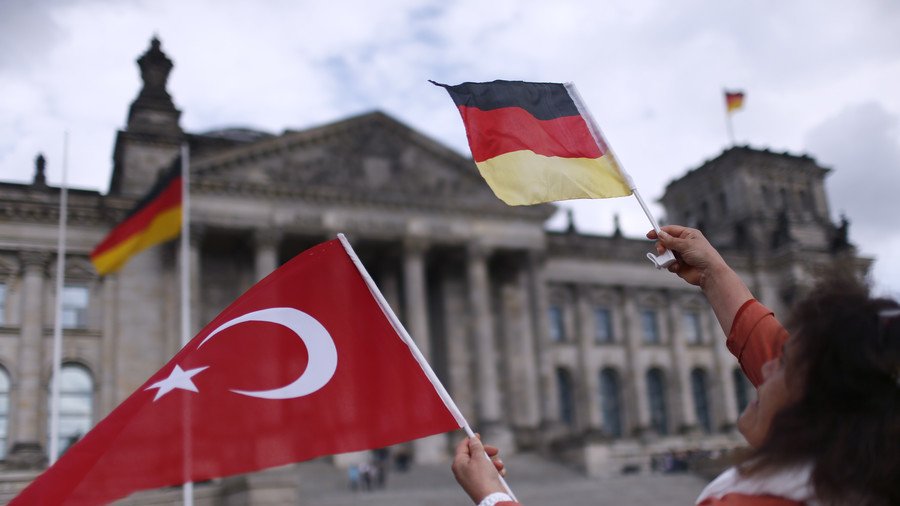 Ankara wants to reverse the "spiral" of worsening relations between Turkey and Germany, Turkey's FM has stated. Melvut Cavusoglu's call for rapprochement with Berlin comes amid rapidly deteriorating relations with Washington.
In an op-ed published ahead of his Saturday meeting with German Foreign Minister Sigmar Gabriel, Cavusoglu wrote that "both sides have an interest in a new beginning" but a fresh start is only possible "if we break the current crisis spiral in our relationship."
Cavusoglu also called on Berlin to help end the "standstill" in Turkey's European Union membership negotiations. Ankara and Berlin have long been at odds over Turkey's EU bid. In December, Gabriel said that he "can't imagine" Turkey becoming an EU member in "the next few years."
Writing that "it is not the time for bullhorn diplomacy," Cavusoglu hinted that Ankara may be willing to review legal proceedings against several Turkish-German nationals, including a journalist, who have been detained on terrorism-related charges.
Ankara has made visible efforts in recent weeks to breathe new life into German-Turkish relations, which have suffered considerably over the last year.
Turkish President Recep Tayyip Erdogan told reporters in late December that he considers German Chancellor Angela Merkel an "old friend," despite previously accusing her of employing "Nazi practices" against Turkish citizens and his own government.
Erdogan flung verbal abuse at Germany and the Netherlands last March, after the two countries prevented Turkish officials from holding rallies for expatriate Turks in support of a referendum that granted Erdogan sweeping new presidential powers. In a more recent outburst, Erdogan characterized Merkel's criticism of Turkey during a September election debate with her political rival, Martin Schulz, as "Nazism."
Turkish efforts to mend ties with Germany come as bilateral relations between Ankara and Washington continue to worsen. Amid a growing list of political feuds with Washington – ranging from President Donald Trump's recognition of Jerusalem as Israel's capital to the recent conviction in the US of a Turkish banker tried for allegedly evading sanctions against Iran – Erdogan has even gone so far as to suggest that US-Turkish ties and accords are "losing validity."
READ MORE: Turkey's accords & ties with Washington losing validity – Erdogan
After Germany voted to support a UN General Assembly resolution calling Trump's Jerusalem decision "null and void," Erdogan called German President Frank-Walter Steinmeier to personally thank him.
You can share this story on social media: