Motorway inferno which killed entire family caught on video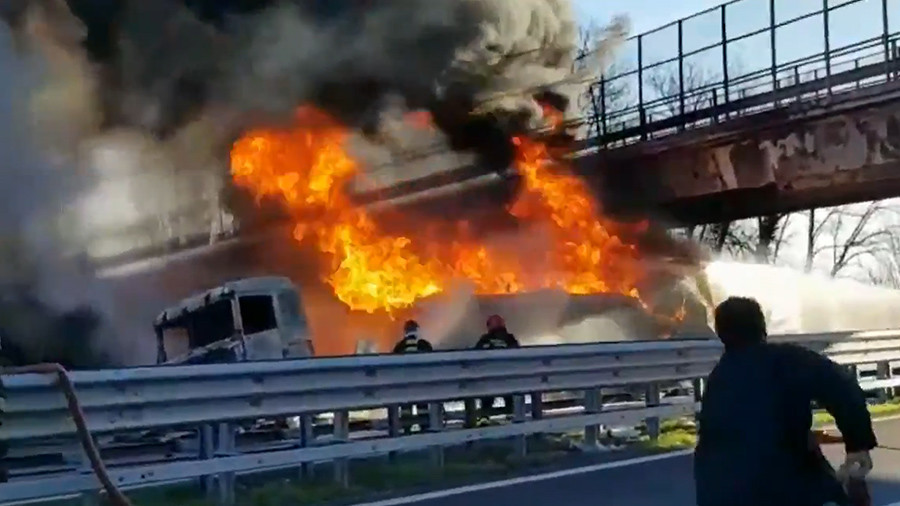 Two children were among six people who died after a fuel tanker exploded on a motorway in northern Italy.
Five of the victims were travelling in the same car along the A21 near Brescia when their Kia was shunted by a lorry which sent it careening into the back of the tanker, AFP reports.
The collision caused the tanker to explode in a massive fireball killing the people in the car as well as the driver of the lorry. The man driving the tanker managed to escape alive by jumping out of the cabin just after the explosion.
The police released video footage of firefighters tackling the huge blaze in the aftermath of the deadly crash. Large columns of black smoke can be seen for several miles.
Italian newspaper La Repubblica reports that the crash took place as traffic was backing up because of an earlier incident. The paper also revealed that the people killed in the car were all from the same family and the entire family died in the accident.
Incidente mortale Brescia riaperta #A21 in direzione Sud, prosegue l'attività della #poliziastradale per il ripristino della viabilità in direzione Nord. Il cavalcavia SP24 interessato dal fuoco è interdetto al traffico temporaneamente pic.twitter.com/3hVuqZnuxw

— Polizia di Stato (@poliziadistato) January 2, 2018
You can share this story on social media: