9 more people killed, 100 arrested overnight as nationwide protests in Iran continue – local media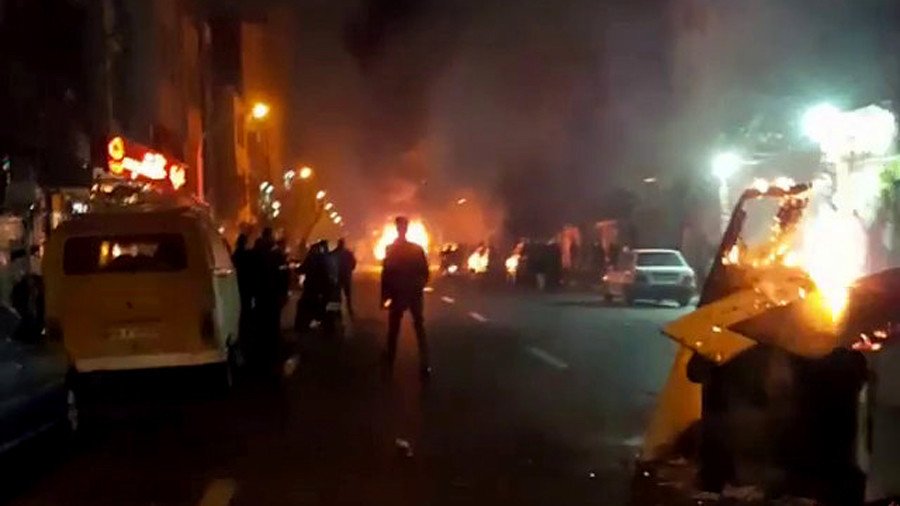 At least 9 people were killed and some 100 were arrested overnight as unrest across Iran entered a sixth day, Iranian media said. The country's supreme leader accused "enemies of Iran" of orchestrating the demonstrations.
READ MORE: Police officer killed, 3 wounded at hands of 'rioter' during rallies in Iran – state media
Among those killed were six protesters who had attempted to steal guns from a police station in the town of Qahdarijan, Iranian state TV said, as cited by AP. Another two people were killed in the town of Khomeinishahr, and the ninth fatality was a member of Iran's paramilitary Revolutionary Guard in the town of Najafabad.
The overall death toll after six days of unrest has reached 20 people, according to state TV.
About 450 people have been arrested in the last three days, security deputy governor of Tehran Ali Asghar Nasserbakht told ILNA news agency. About 100 of them were arrested on Monday, he added.
Pro- and anti-government demonstrations have been taking place in Iran since Thursday. Economic hardship and alleged corruption mostly prompted the anti-government rallies.
On Monday Iranian President Hassan Rouhani vowed to double efforts to resolve Iran's economic problems, unemployment and inflation, Fars agency reported.
Later on Monday Rouhani said that the protests may have been partially stirred up by external forces interested in destabilizing the country. "The enemies of the Islamic Republic of Iran are angry with the glory, success, and the progress of the Iranian nation; and they have vowed to bring the regional troubles to Iran," he said, according to the Iranian Mehr news agency.
The Secretary of Iran's Supreme National Security Council described the protests as a "proxy war against the Iranian people". Ali Shamkhani stated that "Hashtags and messages about the situation in Iran come from the United States, Britain and Saudi Arabia," according to Tasnim news agency.
Earlier Rouhani stated that citizens are "absolutely free" to protest and criticize the government, but that vandalism was another matter. "Criticism is different from violence and damaging public property," Rouhani warned.
Iran's Supreme Leader Ayatollah Ali Khamenei also accused the Islamic Republic's foes of instigating the protests. "In recent days, enemies of Iran used different tools including cash, weapons, politics and intelligence apparatus to create troubles for the Islamic Republic," Khamenei said in a statement.
You can share this story on social media: