St. Pete bomber has mental illness record, blames bad 'personal growth' course – investigators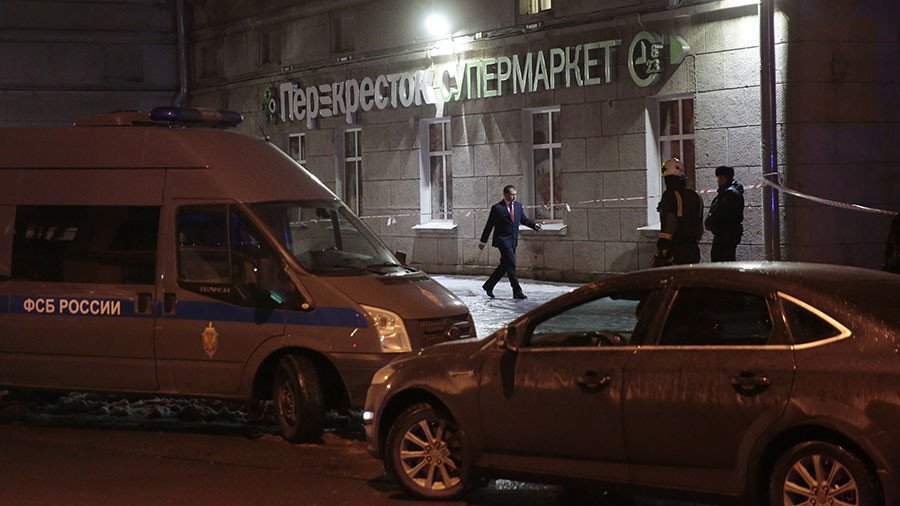 The suspect in Wednesday's bombing in St. Petersburg has a record of mental illness, investigators say. He was motivated by a bad experience he had with a "personal growth" training course.
The suspect in the crime, which left 18 people injured this week, confessed to planning and carrying out the bomb attack, Russian Investigative Committee spokesperson Svetlana Petrenko told journalists on Sunday. He was arrested on Saturday and ordered to be kept in custody by a court on Sunday.
The confession was backed by evidence found by investigators, the spokesperson said. "He hid two USB drives close to the site of the bombing, which contained information about the motive for the act and photos of the explosive device," she said. During the interrogation, the man told police he resorted to violence "due to hatred towards organizers and adepts of a [personal growth] training course he had participated in."
The suspect, identified as Dmitry Lukyanenko, 35, by various media sources, reportedly has previous convictions for drug crimes and battery. The official said the suspect has also had a record of mental illness since the age of 19. An examination will be conducted to establish whether he can be held accountable for the bombing attack.
The statements confirm what was previously reported in the Russian media about the alleged perpetrator of the bombing, which involved an IED with an estimated yield of 200-gram TNT packed with metal fragments to cause additional damage to the victims. On Saturday, St. Petersburg-based Fontanka newspaper published what it said was footage of the man's interrogation.
In the footage, the suspect explains in detail how he left a backpack with the device, which was made from an old fire extinguisher, in the supermarket's storage space for personal items. He then went inside to leave the two USB sticks inside the shop, he added. The investigators found the sticks and tracked the perpetrator, according to the newspaper.
The suspect also mentions the people he had a grudge against as a "cult of psychics," and says he wanted people to know about them. Fontanka says the training service the man was targeting is based in a house about 100 meters from the supermarket. It offers three dozen courses that it claims will help people become more prosperous and healthy, but is registered as an organization providing care to the elderly and people with disabilities, the newspaper reports.
You can share this story on social media: