Hundreds protest US military flights over Okinawa schools after 2 dangerous incidents (PHOTOS)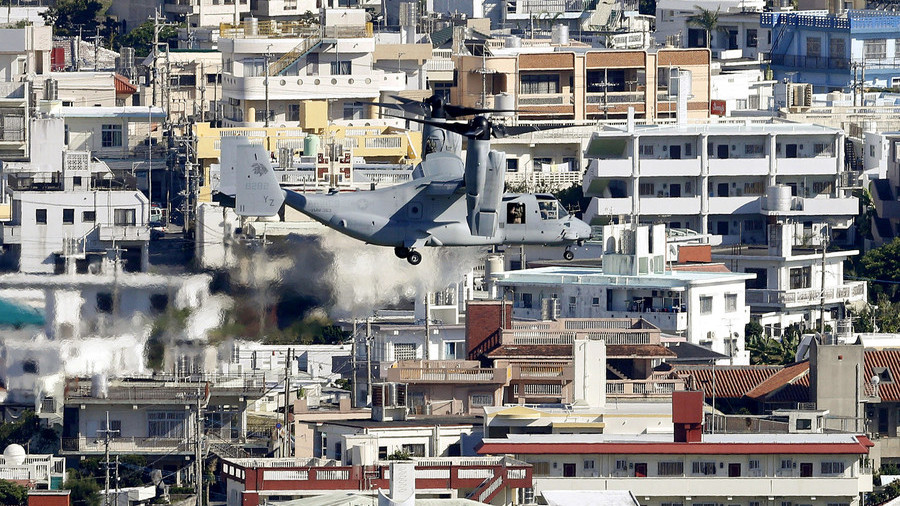 The chain of recent incidents involving US military aircraft has prompted Okinawans to stage a protest against the military facility located near their homes, citing safety concerns for their children.
Hundreds of residents of the Okinawa Prefecture, Japan, took to the streets Friday to protest US military aircraft flying over local schools, endangering youngsters. Some 600 people took part in the demonstration, according to the Asahi Shimbun newspaper.
READ MORE: Aircraft dropping parts, drunk driving: US military faces Okinawa backlash after string of accidents
The protest in front of the Ginowan city administration building was organized by local high school parent-teacher associations, trade unions and other organizations. "I only want our children to be able to play in the playground without any anxiety," a protester said, as quoted by the newspaper.
The activities of the US Marine Corps Air Station Futenma has long raised concern among the local population. The military installation, which is under US jurisdiction, is surrounded by tightly packed residential areas. Plans to relocate the base to another location in Okinawa have been considered for decades, but even the people living in the immediate vicinity of Futenma do not consider it to be an acceptable option.
"People who don't know the actual situation with regard to US forces in Japan may think that if the air station is relocated, all our problems will be solved. But we all know the danger of the US base, so we cannot say so easily that it should be relocated to Nago," another protester said.
The ongoing protests have been triggered by a chain of US-aircraft related incidents which occurred earlier this month. On December 7 a cylindrical object was found on the roof of a Ginowan kindergarten, just after a US military aircraft flew over the building. The object, which fell out of the aircraft, was marked with an English-language inscription: "Remove before flight," footage aired by the NHK TV channel showed. The cylinder was likely a sort of parking cap, which was apparently not removed from the aircraft.
A few days later, an American CH-53 Sea Stallion helicopter lost a metal-framed window while flying over an elementary school near the Air Station. The helicopter part, weighing 7.7kg (17lb), fell in a schoolyard where some 50 pupils were playing. It injured one child.
READ MORE: US helicopter loses window mid-flight, injures 10yo boy in Japan
The fleet of the US transport helicopters stationed at the base has been causing unease for the residents of the surrounding neighbourhoods for years. One major incident involving US aircraft occurred in August 2004, when a helicopter crashed into a building at Okinawa International University, which, fortunately, was largely vacant at the time because of the summer break. An investigation into the incident determined the crash was a result of poor maintenance of the craft.
You can share this story on social media: