What a catch! Trawlers pull rare intersex shark from Taiwan's southern strait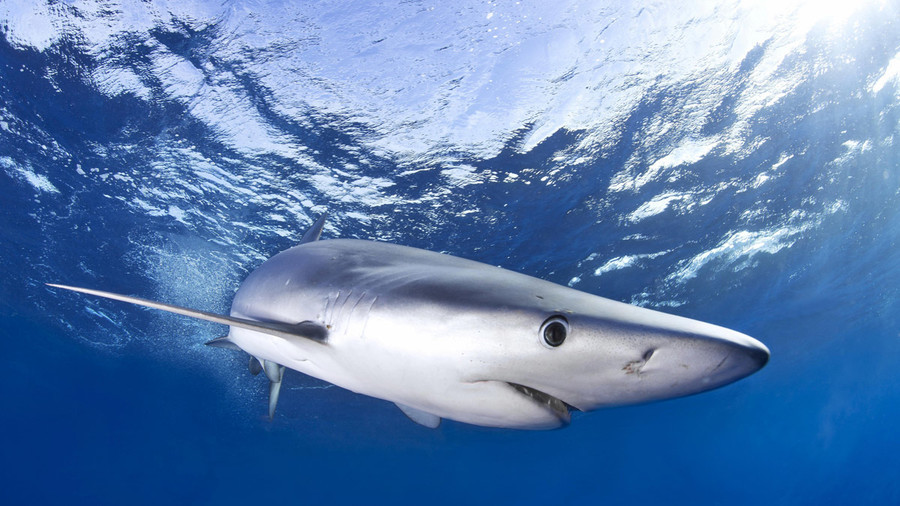 Scientists have found a shark with both male and female reproductive organs in waters off the coast of Taiwan.
The spadenose shark was caught by a fishing trawler in the strait between Taiwan and China in January. After spotting a pair of penis-like appendages known as claspers near its pelvic fin, marine biologists judged the 50cm-long (1.6ft) fish to be an adult male. However, an internal examination revealed that the shark had male and female reproductive tracts as well as a pair of ovotestes, an organ that produces both eggs and sperm.
READ MORE: 'Guinea pig' Canadians offered 'world's first' GMO salmon
The study, published in the journal Marine and Coastal Fisheries by scientists from Xiamen University in China, also showed how germ cells from both sexes were found inside the shark, meaning it could, theoretically, play the male or female role in reproduction. Intersex sharks discovered previously have had only partially-formed reproductive organs.
Dr Carl Meyer, a marine biologist at the University of Hawaii, told Hakai Magazine that it is not yet known if intersex sharks can effectively use both organs for reproduction, and added that no intersex shark has ever been found with a live embryo in its uterus.
Some worry that the phenomenon might be man-made. A February 2016 study of largemouth bass by the US Fish and Wildlife Service pointed to the presence of estrogen in human wastewater as a reason for the rise in intersex species across the northeast US. But Meyer believes that environmental contamination is not the only reason why this might happen every now and then. "Purely genetic drivers could largely determine what happens during reproductive development," Meyer said. "There could be a genetic miscoding that ends up with a rare intersex example in a species."
READ MORE: Feminized fish: Human contraceptives in water supply causing males to grow eggs
In July, Professor Charles Tyler of the University of Exeter in the UK warned that the quantity of synthetic chemicals in our water is feminizing fish populations. "If you look in terms of what gets into a fish's liver or gonad, the analysis of the chemicals it contains is a bit of a blueprint in terms of what's flushed down the toilet," Prof Tyler told the Independent.
"We're starting to establish not just effects on gender, but that they can also affect other physiological processes in the fish as well," he added.