From rooster to dog: Trump inspires another giant animal statue in China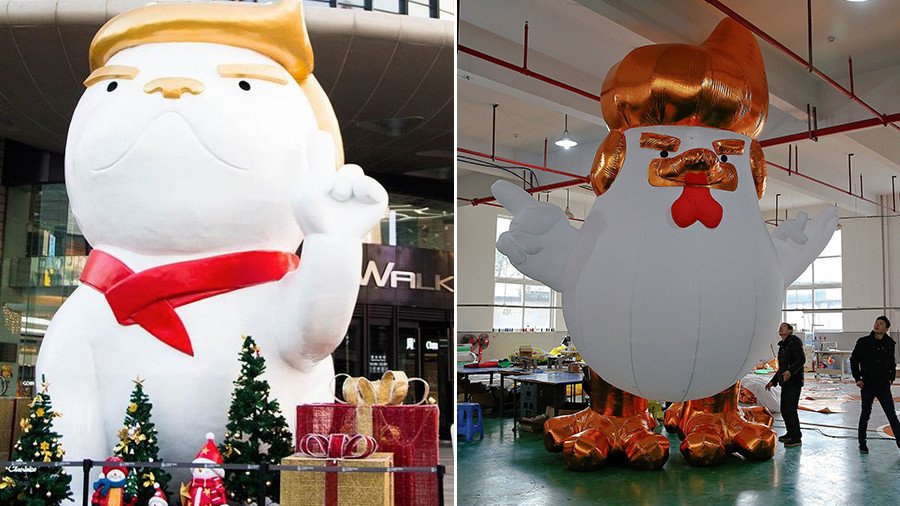 A new animal statue with an uncanny resemblance to the 45th US president has appeared in China, just as the Year of the Dog approaches. Move over, Rooster Trump: a pooch with an iconic hairdo is the new trend.
The massive Donald Trump-like dog statue was placed outside a shopping mall in downtown Taiyuan, in China's northern Shanxi province. While the figure heralds the upcoming Year of the Dog in the Chinese lunar calendar, which starts in February, Trump himself was born in the same zodiac year in 1946.
Trump's distinctive finger-pointing gesture, haircut and red tie preference are all evident.
Welcome the #TrumpDog: A giant dog figure sporting Trump's hairdo and gesture is seen outside a shopping mall in downtown Taiyuan, capital of Shanxi Province, heralding the upcoming Year of the Dog. US President Trump was born in 1946 in the Year of the Dog. pic.twitter.com/SwbIZrKrmN

— People's Daily,China (@PDChina) 26 декабря 2017 г.
If the tradition of transforming Trump into zodiac animals is to continue, then a pig statue can be expected next year, followed by a rat in 2020.
Trump Rooster, 'made in China'
This year's decorations apparently follow last year's trend, as even before the incumbent US president took office, the Chinese had erected a rubber rooster statue with a remarkable resemblance to Trump in the same mall.
The statue, dubbed 'Inflatable Trump Rooster', was aimed to lure customers, while its egg-shaped body and golden hair delivered the message of "getting rich," according to local media, citing the designer. The idea has apparently paid off, as replicas are now being sold on Chinese website Taobao.
A factory in the city of Jiaxing in the northern Zhejiang province unveiled a giant balloon 'Super Trump' rooster statue in January. The producer said that the statue was inspired by the coming Chinese New Year and revealed that they make up to eight of them a day.
'Chicken Don' overtakes US protests
The Chinese-inspired statue gained prominence overseas, becoming an official mascot of the Tax March protests, which anti-Trump activists started holding across the US in April. The same 23ft-tall inflatable chicken with golden hair and a stern expression was erected behind the White House in August. The organizer, Taran Singh Brar, told RT he believes the president acts "like a chicken" and is afraid to release his tax returns.
Prior to the event, Brar launched a crowdfunding page in an attempt to raise money for "Dozens of Chicken Don's [sic]" to be brought to the Washington Monument. The campaign failed to reach its $10,000 goal.
The iconic rooster even has its own active Twitter account, where it calls itself "Donny, official fowl of the @taxmarch and #NotOnePenny."
You can share this story on social media: